2023 Session tax corrections, status updates
Last Updated: 3/21/2023
Kentucky Department of Revenue, FAQs Update
The Department has provided responses to the frequently asked questions submitted by KyCPA following our joint sales tax webinar on January 24, 2023. Please CLICK HERE to review the FAQs list and responses provided by the Department. 
House Bill 360, Revenue Legislation, Current Version 
On March 7, 2023, HB360 passed the House Appropriations & Revenue Committee containing multiple tax corrections and reforms.
Below are links to the bill's summary of contents, fiscal note, bill language, and key provisions outlined by Section.
Key Provisions
Sections 4-15, 2022 Session HB8 corrections 

Car rental and ride sharing tax, pp 3-9
Cosmetic surgery services, pp 11
Executive employee recruitment services, pp 14
Extended warranty services/prewritten computer software access services, pp 14
Lobbying services, pp 18, 19
Marketing services exemption, pp 20, 33
Telemarketing services, pp 30, 33
Prewritten computer software access services, pp 14, 31, 60
Residential and nonresidential security system monitoring services, pp 34
Testing services, pp 35
Residential utilities sales tax, multi-unit residential rental facility or mobile home and recreational vehicle park resident sales tax exemption, pp 42
Water and sewer projects, allow the governmental exemption to flow through to the contractor purchases, with an amendment to allow all government water and sewer projects, pp 58, 59
Exempt the sublease or sub-rental of space for meetings, conventions, short-term business uses, entertainment events, weddings, banquets, parties, and other short-term social events if the tax is paid by the primary lessee to the lessor, pp 59, 60
For nonprofit civic or other nonprofit organizations that operate a fundraising event solely with volunteers, sales of concessions for leisure, recreational, or athletic fundraising purposes of sales of leisure, recreational, or athletic services are exempt from sales tax, pp 63, 64
Sections 16, 21, 22, SALT parity relief
Pass-through entity tax, credits, pp 64, 65, 83-96 

Retroactive to 1/1/2022
Pass-through entity tax

election

made: 

On a form prescribed by the Kentucky Department of Revenue
Made by 4/15 or if an extension is filed, 10/15
Made only upon the consent of 50% of all partners, members, and shareholders with ownership in the pass-through entity
Binding upon all individual partners, members, and shareholders of the pass-through entity

Pass-through entity tax credit:

Pass-through entity tax credit equal to 100% of the tax paid by the pass-through entity on behalf of the individual partner, member, or shareholder of the pass-through entity 

NOTE: The individual income tax credit was returned to 100% by the free conference committee report following advocacy by the SALT parity coalition and KyCPA

Claimed against the tax imposed under Section 21 of this Act on a return filed by the individual partner, member, or shareholder of the pass-through entity with the ordering of credits as provided in Section 22 of this Act, pp 92
The credit is nonrefundable
Based upon the pro rata share of the individual partner's, member's, or shareholder's income from the pass-through entity 

The pass-through entity will be required to report to each individual partner, member, or shareholder the individual's proportionate share of the tax paid by the pass-through entity for the taxable year and for purposes of the pass-through entity tax credit
The Department (of Revenue) shall prescribe forms and may promulgate administrative regulations as needed to administer this section
Credits for taxes paid to other states, pp 95, 96

NOTE: This provision was added by Senate amendments following advocacy by the SALT parity coalition and KyCPA
Section 17, IRC conformity

Update to 1/1/2023, pp 65-73
Sections 18-20 Restaurant revitalization grants

Restaurant revitalization grants that covered business expenses during the entirety of the federal program will now be deductible, pp 73-83
For taxable years beginning on/after 1/12020 but before 3/11/2023

Section 21, Individual income tax rate reduction conditions, pp 83-91 
Section 26, tax increment financing agreements, pp 107-116

For projects approved prior to 1/1/2023, the state revenues received by the Commonwealth from individual income tax shall be computed using modified new revenues for income tax, making the new revenues equal to those that would have been calculated at the income tax rate of 5%, but only for calendar years 2023, 2024

Sections 28-34, rural housing trust fund, pp 119-128
Section 49, motor vehicle usage tax, including recreational vehicle definition, pp 155-159
Sections 50, 51, property tax, valuation method for multi-unit rental housing, pp 159-172
Section 53, centralized tax reporting and distribution system for state and local transient room taxes, pp 173
Sections 55-57, effective dates, pp 173, 174
Section 58, emergency clauses, pp 174 
Current Status: HB360 has passed both Chambers of the Kentucky General Assembly and has been delivered to the Governor for signature, veto, or to become law without his signature following the 10 day veto period that ends March 28, 2023. 
Recommendations: KyCPA, along with other business stakeholders a part of the SALT parity coalition, are providing specific recommendations to the General Assembly to ensure that Kentucky's law is competitive, available to and can be implemented by taxpayers and tax professionals, and enforceable by the Kentucky Department of Revenue. Specific recommendations follow: 
The current SALT parity proposal is retroactive to January 1, 2022. To ensure even application of SALT parity provisions, amended returns should be permitted until August 30, 2024. 

NOTE: The August 30, 2024 relief deadline mirrors the Indiana pass-through entity tax relief measures for retroactive 2022 tax year returns.

Relief from late payment penalties and interest, and estimated payments for the 2022 tax year for businesses that elect the pass-through entity tax until August 30, 2024. 
Notification that a nonrefundable tax credit puts Kentucky at a disadvantage compared to our neighboring states, such as Indiana and Ohio. 
SALT Parity Retroactivity: Although retroactivity to January 1, 2022, poses administrative concerns, the economic benefit to Kentucky businesses and competitiveness with our neighboring states where a retroactive pass-through entity tax has been adopted remains a crucial component. There is a strong desire amongst the Kentucky business community and key legislators to maintain the retroactive date of January 1, 2022.
Following outreach from practitioners and business professionals from throughout the Commonwealth, allowing practitioners and taxpayers an election into the pass-through entity tax was preferable to statutorily restricting tax-saving benefits until January 1, 2023. The above-listed recommendations aim to address the primary concerns with retroactivity. 
Discussions with clients regarding the retroactive implementation, election into the pass-through entity tax, and cost/benefit analysis of an election will be critical for the remainder of the tax season. It will be important to weigh the advantages/disadvantages associated with making this election and whether tax savings will be realized on 2022 and/or 2023 tax returns under each client's unique circumstances. 
To assist with communications to clients regarding SALT parity relief and the evolving tax climate, please utilize this sample client letter/memo from KyCPA. 
This legislation is subject to change/amendments however, this information is posted for review and preparation for the  2022 and upcoming 2023 tax years. Pay close attention to specific provisions, as some are retroactive to prior tax years.
In addition, HB5 proposes to phase out the property tax on distilled spirits stored or aging in barrels by 2039. This legislation has received two readings on the Senate floor on March 15, 2023, and was referred to the Senate Appropriations & Revenue Committee for further consideration. 
Please remain attentive to this page, Member Meetup, and the legislative update emails over the next few weeks as updates are posted regarding any amendments or changes to the legislation.
Questions?
If you have specific questions, please email KyCPA Government Affairs Director, P. Anthony Allen at aallen@kycpa.org.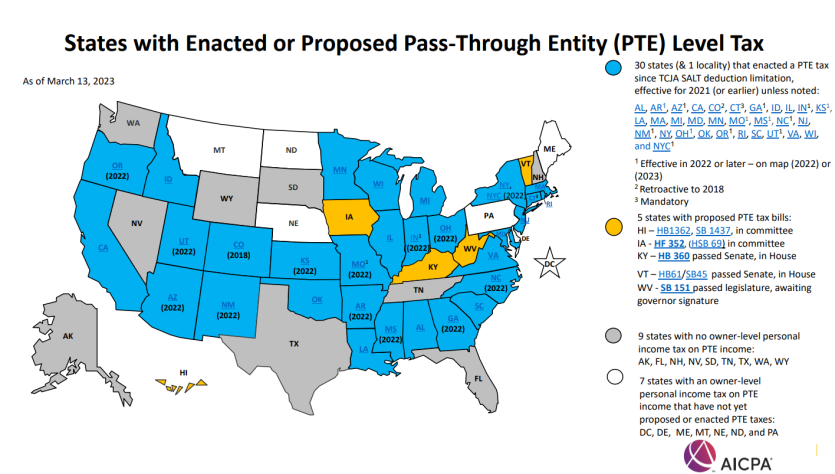 State tax reform resources
The Kentucky General Assembly passed significant tax reform via House Bill 8 on April 13, 2022. The Kentucky Department of Revenue is expected to administer regulatory guidance regarding the implementation of the new tax reform changes via their Tax Answers website. Any specific guidance administered by the Department will be posted on this website for ease of access.
Other tax reform measures that passed during the 2022 Regular Session include unemployment insurance reform via House Bill 4 and House Bill 144. Other tax changes passed into law include House Bill 607 regarding a new tax structure for pari-mutuel wagering. 
Most of the tax changes included in House Bill 8 will become effective January 1, 2023. Specific provisions, including the new transient room and electric powered vehicle taxes have specific effective dates.