Most of our seminars are virtual-only or have a virtual option this year. These are live and interactive and are found on the default (first) tab of the CPE Catalog. Select seminars and most conferences will be at the Gratzer Education Center and you can attend in-person or online. If you need to switch from in-person to virtual attendance less than 7 days before the program date, we have already guaranteed our lunch count with the caterer, and there is a $30 change fee.  
Please contact the CPE department with any questions at 502.266.5272 or cpe@kycpa.org.
Continuing professional education is more than a licensing requirement; it's your connection to this ever-changing profession. Quality, relevant CPE helps you stay on top of the issues to better serve your clients, employers, and the business community. KyCPA brings you top-notch CPE courses, conferences, and seminars – in-person and via webcast, webinar, and on-demand.
Online registration is available for individuals and groups--credit card payment (V/MC/Amex) is required at checkout. All available discounts are automatically applied unless you have a discount code.
To arrange a group viewing of webcasts, please contact us in advance at cpe@kycpa.org or 502-266-5272.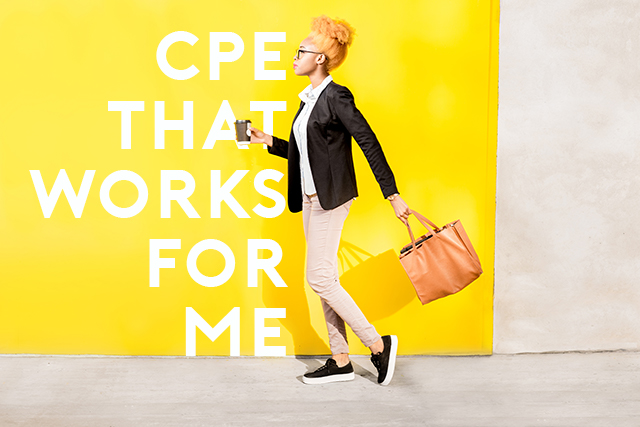 In a recent survey, 64 percent of members surveyed said that our CPE was one of the top three reasons they joined the Society. Our catalog is extensive, with 37 simulcasts, 13 conferences, 110 seminars, 300+ on-demand courses and 6,000+ webinars covering 20 fields of study. 
You may schedule On-site CPE customized training for your team at your office, the Gratzer Education Center or another site. Contact Kim Puckett to learn more.
KyCPA members may also take advantage of selected webcasts each month for free. Click here to view selected free webcasts. Members also receive discounts on KyCPA CPE. 

Wow! That's a lot of continuing education. But don't worry, we'll show you everything you need to know.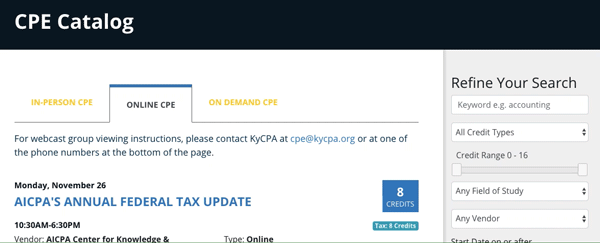 It's that simple. Then you can search by keywords, location, credit type, field of study or date. Not a fan of digital registration? That's okay. You're welcome to call us at the office if you need help registering.
"What if I'm not sure how many CPE hours I've completed?" No worries. You can access your CPE transcript at any time.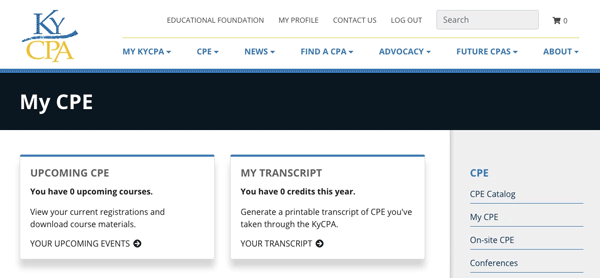 We like to keep you in the loop, too. Make sure to signup to receive the "CPE Connection" e-newsletter that outlines upcoming course opportunities on your profile. On Tuesdays, we update you with what's new in the department including new classes, discounts and important event information.
"So what do I do next?" Go explore! Browse the online catalog. Call or email us if you have any questions. We are here to help.