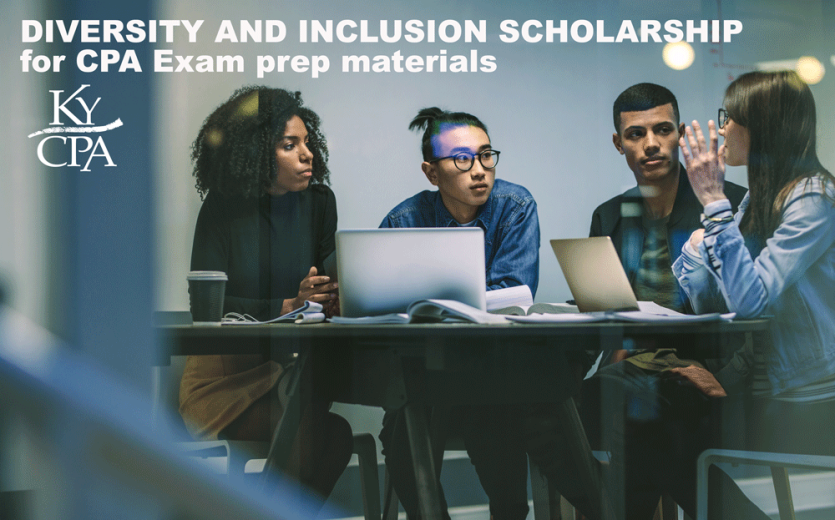 The Diversity and Inclusion Committee of the Kentucky Society of CPAs is pleased to offer scholarships for CPA review materials for minority students, defined as Black or African American, Hispanic or Latino, Native American or Alaska Native, Native Hawaiian or Pacific Islander, Asian American or Multi-ethnic.  Students must be currently enrolled in or graduated within one year from the date of application from a Kentucky college/university or a Kentucky resident attending a border state (IN, OH, TN, WV, VA, MO, IL) college/university with intent to pursue CPA licensure and practice in Kentucky. Scholarships are awarded through the Kentucky Society of CPAs Diversity and Inclusion Committee.
Purpose
The intent of this program is to support Kentucky minority students in pursuit of their CPA licensure. 
Instructions
To apply for a scholarship, applicants need to complete the online application form.
Applications accepted January 15 - April 30, 2023.
Each finalist will be contacted by a member of the Diversity and Inclusion Committee for a brief phone interview.
The Diversity and Inclusion Committee will select the scholarship winners by June 30, 2023.  The winners will be notified by KyCPA and contacted by the CPA Exam review providers. 
Questions? 
Contact 502.266.5272 or 800.292.1754; zsapin@kycpa.org