KyCPA's first College to Accounting Professional University (CAP U) was held virtually, Friday, June 5. 15 students from 9 colleges and universities across the state completed the program. Each of the participants were recommended by an accounting educator.
This free event for college accounting majors was designed to enhance students' professional skills, master interview techniques, perfect networking and communications skills, and learn about career opportunities. Thank you to the KyCPA Accounting Career Opportunities committee for their efforts in developing the program agenda.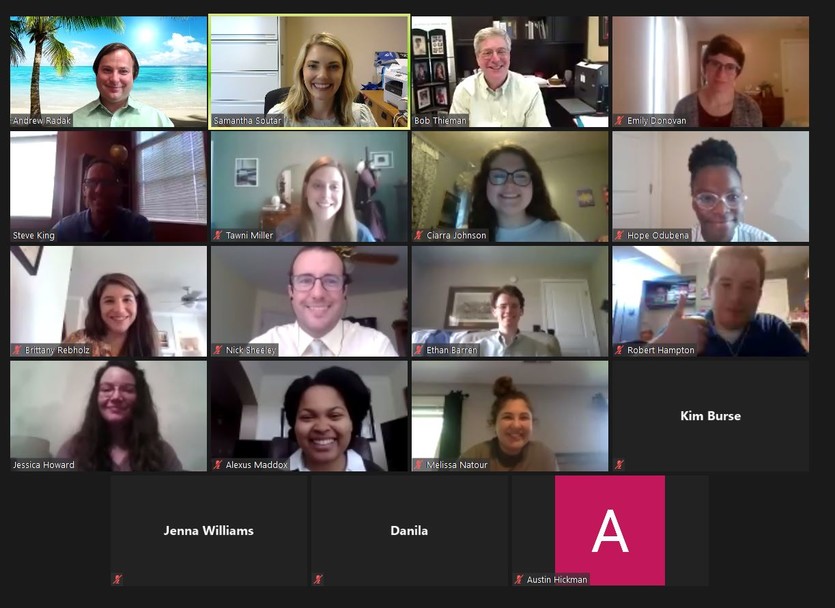 Congratulations to the following student participants for completing KyCPA CAP U:
Ethan Barren, Asbury University
Julia Fry, Western Kentucky University
Robert Hampton, Bellarmine University
Austin Hickman, Lindsey Wilson College
Jessica Howard, Eastern Kentucky University
Ciarra Johnson, Eastern Kentucky University
Alexus Maddox, University of Louisville
Melissa Natour, Asbury University
Hope Odubena, Asbury University
Danila Pyzh, Brescia University
Andrew Radak, Bellarmine University
Stephanie Routh, Spalding University
Nicholas Sheeley, Spalding University
Khoi Tran, University of Kentucky
Jenna Williams, University of Louisville
"This program increased my knowledge of the accounting profession, and it gave me a feel of what it's like to work in accounting. The speakers provided relevant insight that answered lots of questions I had, as well as helpful tips for a successful career." Hope Odubena, Asbury University
"The College to Accounting Professional University (CAP U) virtual experience was truly an engaging, informative, and exciting opportunity! I learned so much about emerging technologies, communication, and leadership, and I am grateful for the chance to participate. Having these experiences to learn, network, and share with others really makes a difference in our personal and professional lives." – Jenna Williams, University of Louisville
Thank you to the volunteers and presenters who shared their time and expertise with the group, including:
Danielle Adair, CPA, Dean Dorton PLLC
Jaclyn Badeau, CPA, Badeau Consulting LLC
Cynthia Borden, CPA, BKD LLP
Barbara Burridge, Robert Half Finance & Accounting
Emily Donovan, CPA, Atria Senior Living Group
Cliff Fowler, CPA, Fowler Durham CPAs & Advisors PLLC
Ashley Gonzalez, CPA, DMLO CPAs
Megan Greer, CPA, PricewaterhouseCoopers LLP
Amy Keighley, Ernst & Young LLP
Georgia Keogh, CPA, Valvoline Inc.
Bina Khatri, CPA, BKD LLP
Steve King, CPA, Meyerowitz & King PLLC
Emma Laura, Ernst & Young LLP
Shara Lucio, CPA, Deloitte & Touche LLP
Blair Manning, CPA, KPMG LLP
Aaron Miller, Leadership Louisville
Tawni Miller, KyCPA
Karen Milliner, Linguistical LLC
Brittany Rebholz, CPA, Dean Dorton PLLC
Jeff Ricketts, Dean Dorton PLLC
Natalie Schuler, CPA, Dean Dorton PLLC
Ali Strohm, CPA, Ernst & Young LLP
Bob Thieman, CPA, Thieman Law Firm
Michael Wagner, CPA, AmerisourceBergen-ICS
Alyssa Yozwiak, CPA, Dean Dorton PLLC
Thank you to our sponsor Becker Professional Education.
Plans for an in-person 2021 program are already in the works; for more information contact Samantha Soutar at ssoutar@kycpa.org.
WE KNOW YOU'RE ONE OF A KIND.
Does your future employer?
Mold the skills you need to stand out and elevate your opportunities at CAP U 2021.
June 4-5, 2021
A free program designed to:
Enhance professional skills

Master interviewing techniques to help edge out the competition for internships and jobs

Perfect networking and communication skills

Learn about career opportunities
Eligibility Requirements:
College accounting, finance or business student enrolled at an accredited college or university in Kentucky or southern Indiana with the intent to (or already declared) major in accounting

Must be at least a sophomore, have completed two accounting courses, and be enrolled in the 2021 academic year for at least one semester

Maintained a 2.75 GPA

Demonstrated leadership potential