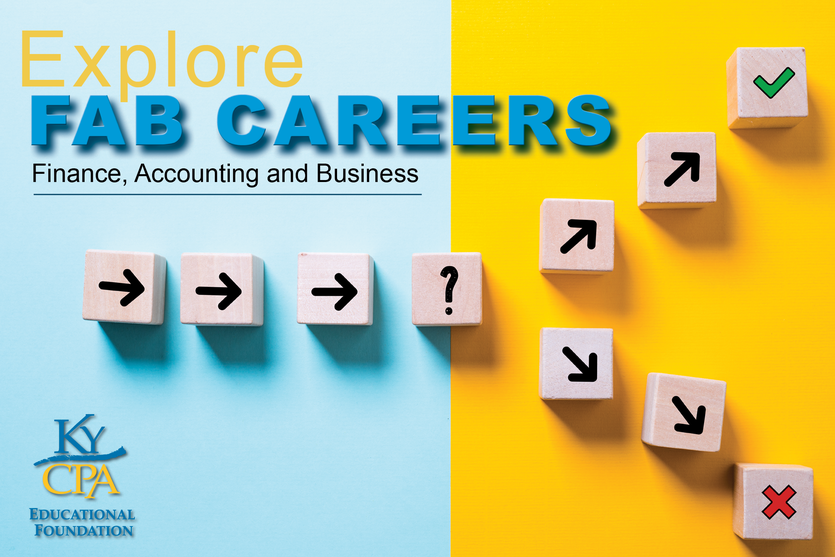 Click here to view photos from our first FAB Careers Day at Bellarmine University in Louisville on Nov. 6, 2019.
When and where:
The next FAB Careers Day has not been scheduled for 2022. We will post it here when it is scheduled.
Who:
High School students interested in accounting, business and/or finance; all grade levels welcome.
Why:
To introduce students to the many opportunities within the accounting and finance professions. 
What:
FAB (Finance, Accounting & Business) Careers Day is a FREE, exploratory field trip that allows students to chat with professionals in a variety of accounting/finance roles, college accounting/finance students, and learn more about career benefits from company recruiters. Students will also have the opportunity to visit Kentucky colleges/universities and learn about their business programs (see exhibiting schools below).
Format:
The event will feature accounting/finance professionals booths, college student booths, company recruiter booths, and college recruiter booths, each staffed with representatives ready and willing to share information with your students about career and education opportunities. The event will also feature Kentucky CPAs, games, and other materials for students to interact and fully explore these career options. 
Registration
Students must register individually using their @stu.countyenrolled.kyschools.us email address.
A registration link will be placed here when the next FAB Careers Day is scheduled.
Sponsor/Exhibitor Opportunities
Support Kentucky's future business leaders by sponsoring KyCPA's FAB Careers Day! This exploratory field trip allows high school students to be introduced to the many opportunities within finance, accounting and business (FAB). Students will spend the day chatting with licensed professionals, college accounting students and professors who are all eager to share their knowledge, expertise and passion for the accounting and business world. One of the key benefits of this event is that it is free for students to attend; to make this possible the Society is offering several sponsorship opportunities. Once you've selected the sponsorship level that works best for you, please complete the form and return it to Robin Miller at rmiller@kycpa.org.
Kentucky and southern Indiana colleges/universities can participate as an exhibitor. Create a booth by uploading information about your school, business programs, videos, links to social media, etc. Staff your booth with 2-4 representatives, and have one-on-one chats with students from around the state. Each booth representative is able to engage in 2-3 chats at once. When students connect you will be able to see information about the student such as grade level, favorite subject in school, and career interests. A handy feature included within the platform is a notification setting which "dings" when a student has entered your booth and wants to chat. Hello, multitasking! The platform is very user-friendly, and KyCPA will supply support in creating your booth; it shouldn't take more than 30-45 minutes to set up. Also note, if you participate in multiple FAB Career Days, you will not have to recreate your booth each time, simply update as needed. Once you've selected the exhibitor level that works best for you, please complete the form and return it toRobin Miller at rmiller@kycpa.org.
Questions?
Contact Robin Miller at rmiller@kycpa.org.