Deadline to apply: January 20 (12 p.m. Eastern)

A completed application includes a
Recommendation Form filled out by one of your Educators.
CLICK HERE for the PROFESSOR/TEACHER RECOMMENDATION FORM. 
Questions? Contact Zoe Sapin at zsapin@kycpa.org
Student Ambassadors are students passionate about the accounting profession and becoming CPAs. Ambassadors display strong leadership, organizational and communication skills.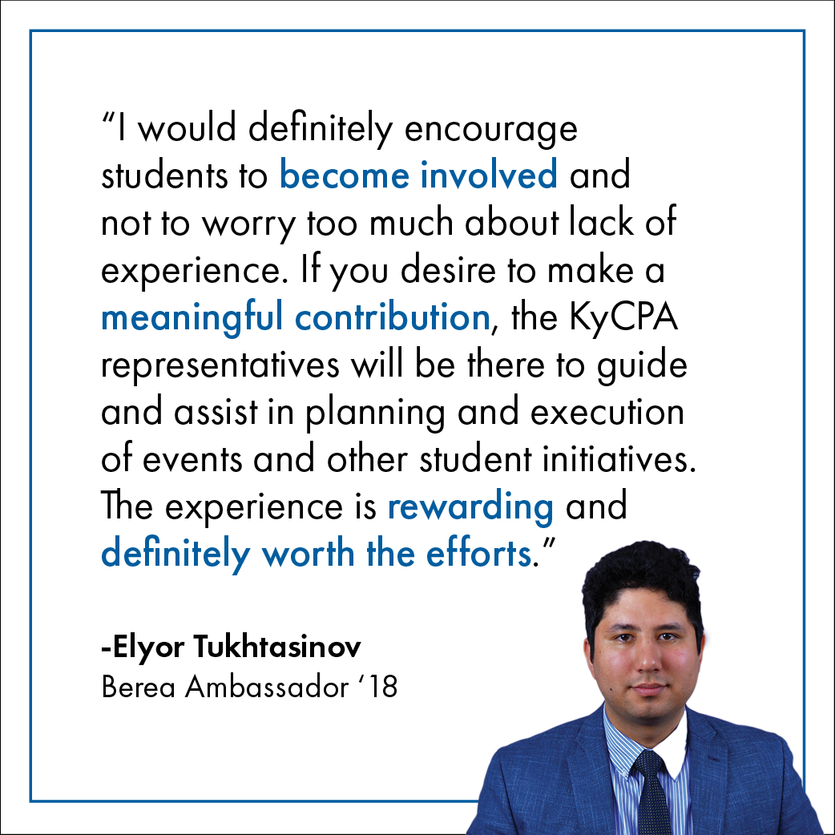 Student Ambassadors will receive a number of benefits including:
a mentoring opportunity,
letter of recommendation,
credit for community service hours,
invitation to and recognition at KyCPA's Awards Banquet
and so much more!
Student Ambassadors help achieve three primary objectives:
Building awareness of FREE KyCPA student membership benefits to students and educators on your campus.
Increasing the visibility of KyCPA on your campus.
Strengthening ties between KyCPA and your school.
Eligibility requirements
KyCPA student member
Currently attending a college or university as an accounting major with the intention of pursuing a CPA license
Completed and passed at least one intermediate accounting course
3.0 GPA or above in major-related courses
Ability to dedicate approximately 15 hours throughout the semester to Ambassador duties
Educator Recommendation