Open accounting-related positions
Click here to post an open accounting-related position in Kentucky or a surrounding area. Your open position will appear on this page for one month, a link to this page will be shared in our monthly e-newsletter to KyCPA members and on KyCPA social media one-time per month. Postings are free for KyCPA members and $50 for each posting for non-members.

Open position
type
Location
Date posted
Apply
Certified Public Accountant
Seasonal Full-time
Louisville/Teleworking
1/20/2021
Apply here

CPA - Long Term Project

This is a fantastic long-term assignment with Louisville Metro Government. The target completion date is Spring, 2021. While this project will have a definitive end, this is an excellent opportunity to showcase your talents for a possible future opportunity! This job will be primarily teleworking.

Basic Responsibilities:
Provides support on the monitoring and compliance function of the Department of Economic Development's Small Business COVID-19 Relief Grant program, including but not limited to the following:

Reviewing financial report submissions from grantees for completeness and to ensure they meet the reporting requirements outlined in the reporting guidelines.
Working with grantees to advise on reporting and accounting requirements as needed in an effort to support grantees in their efforts to compile complete financial reports.
Upon finalization of complete grant financial reports, submits recommendations to the director and assistant director to release remaining grant funds.

$27/hr-$30/hr

Click here or email mvincent@aheadhr.com for more information.

Staff Accountant
Full-time
Louisville
1/20/2021
Apply here

Talis Group's client is a thriving Louisville, KY construction industry company working on high profile projects in the region. This new Staff Accountant position will assist Controller by performing general accounting functions such as payroll, bank reconciliations, general ledger entries, assisting with monthly close and posting accounts payable. The position will be trained to do AIA contract billing and construction job costing as well as other functions to support the Controller. Excellent opportunity for an upbeat professional who enjoys a fast-paced environment with multiple responsibilities. Market competitive compensation and full employee benefit package. Apply today and start 2021 with a bright new future at a successful company!


Click here for a full job description.

Tax Compliance Supervisor
Full-time
Lexington/Winchester
1/20/2021
Apply here

This position serves in two distinct capacities (1) Oversees, guides, motivates and directs the activities of the Payroll Team to ensure the accurate, timely, and confidential completion of the bi-weekly payroll in accordance with applicable regulations and EKPC policy and (2) Oversees the overall tax function of the Cooperative, ensuring compliance with all tax regulations, including the preparation and filing of all required tax returns, and minimizing, to the extent possible, the company's tax liability. This position serves as the subject matter expert in all areas of payroll and related taxes, along with all other areas of federal, state, and local taxes that currently affect or could affect the Cooperative. This position is also responsible for researching tax issues, new legislation, and proposed transactions and advising of potential tax consequences.


Click here to find out more.

Temporary Financial Analyst
Seasonal Full-time
Louisville
1/4/2021
Apply here

Talis Group's client is a large regional banking institution preparing for an influx of loan forgiveness applications to review. Analysts needed to assist with review and validation of loan documentation support. 30-45+ day assignment at East End location. $20-$22 per hour based on experience. Possible evenings, weekends and overtime.

Highlighted Duties

Review supporting documents to ensure they agree with the loan forgiveness application. Communicate missing documents or errors in the forgiveness application
Ensure all required documentation is available and completed
Perform data entry into bank's loan origination systems
Assist with reviewing loan applications for compliance with major aspects of the program- most likely using a checklist.
Position may require other administrative or data entry tasks

Highlighted Requirements

Bachelor's Degree in Accounting or related
3 years of Accounting, Finance or Banking experience
Financial data analysis experience
Proficient in Excel


Accounting Professional
Full-time
Louisville
1/4/2021
Apply here

Henderman, Jessee & Co., CPAs, an east Louisville accounting firm is looking for a self-motivated, energetic full-time professional to join our practice. This position offers excellent opportunities for leadership and career advancement to the right candidate.

We offer a competitive salary (commensurate with education and experience) and excellent benefits.

Job description

Preparation and review of federal and state income tax returns for individuals and all forms of business entities
Analysis, planning and consulting to minimize federal, state and local taxes
Prepares written correspondence and other documents for submission to the IRS and other tax authorities

Experience

Bachelor's degree in accounting or finance
CPA preferred but not required
3 or more years tax experience
Strong accounting and analytical skills
Strong computer skills: proficiency in Tax software, Excel, Word
Excellent interpersonal, oral and written communication skills
Detail-oriented & ability to multi-task


Tax Advisor/Preparer
Full-time
Lexington
1/4/2021
Apply here

Small to medium accounting firm in Lexington, Ky seeks a CPA, EA, or experienced tax advisor/preparer. Potentially flexible employment arrangement via seasonal work, contractual work, or permanent full-time work. If you already have an established practice, strong consideration may be given to potential merger or buy-out opportunity. This person will be responsible for completing all tasks associated with preparing individual and business tax returns and an understanding of state, federal and local tax laws and regulations. We value team members driven to succeed with a strong interest in providing exceptional services to our clients. We are very interested in candidates with experience in all areas of accounting, preferably working with multiple engagements simultaneously in a fast-paced environment.


Staff Accountant II - Tax
Full-time
Lawrenceburg
1/4/2021
Apply here

Four Roses Bourbon is seeking applicants for the position of Staff Accountant II - Tax. This position is responsible for all activities related to various tax and state compliance functions, research, reporting, and other special projects as required. The Staff Accountant II is a secondary level staff accounting role that serves as support to the Finance and Accounting Department in performing accounting responsibilities and activities as related to various tax and state compliance functions, research, reporting, and other special projects. The position will report directly to the Senior Manager of Finance and Accounting.


Netsuite Senior Consultant
Full-time
Anywhere
1/4/2021
Apply here
SALARY INFO
Student EMPLOYER GUIDE
The future CPA's guide to passing the CPA Exam and finding their dream job!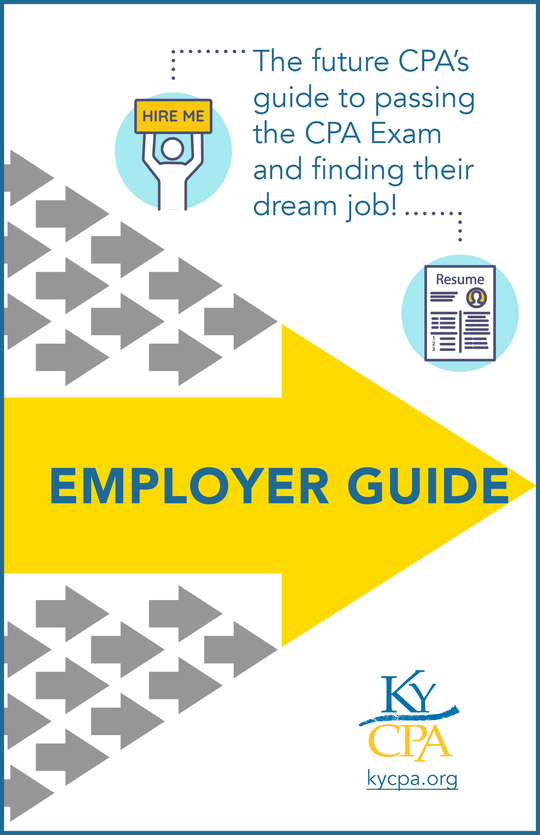 Do you want to become a CPA? The Kentucky Society of CPAs Employer Guide is a valuable resource as you begin your journey. It profiles organizations in Kentucky that are interested in hearing from bright, motivated individuals who want to start their professional career with a forward-looking employer. It also provides you with everything you need to know about applying for and taking the CPA Exam so you can become a CPA and get noticed by employers.