Open accounting-related positions
Click here to post an open accounting-related position in Kentucky or a surrounding area. Your open position will appear on this page for one month, a link to this page will be shared in our monthly e-newsletter to KyCPA members and on KyCPA social media one-time per month. Postings are free for KyCPA members and $50 for each posting for non-members.

Open position
type
Location
Date posted
Apply
Senior Treasury Analyst
Full-time
Louisville
4/21/2021
Apply here

Description:
The Treasury department operates in a fast-paced work environment, focusing on managing the liquidity of Atria's business. The Senior Treasury Analyst interacts with the Treasury team, other internal departments, as well as external individuals to support all aspects of treasury operations. Responsibilities include, but are not limited to, cash forecasting, bank account management, financial analysis, and the daily cash management function. This individual also handles ad-hoc projects as requested by the Management of the Treasury Department.

Requirements:
Three (3) to five (5) years of accounting or finance experience; previous experience in a Corporate Treasury function and CTP certification is preferred.

Click here for more details and requirements.


Finance Director
Part-time
Melbourne
4/21/2021
Apply here

The Congregation of Divine Providence has a wonderful opportunity for an experienced Finance Manager/Director. This is a part time position working 20 hours a week with very flexible hours.

As a part-time employee you will also be eligible for our benefits program including medical insurance, retirement, vacation, and other valuable benefits.

Qualified applicants would have a degree in Finance or related field with experience in the financial field. Experience working for a non-profit would be a plus. Excellent communication and organization skills and working knowledge of investments, accounting, budgeting, and various computer software programs including QuickBooks and Excel are needed.

Principal duties and responsibilities include Financial Accounting and Reporting as well as administrative duties covering areas such as the oversight of Congregational investments and property and liability insurance, monitor risk management policies and procedures, in addition to other administrative duties.


Internal Audit Specialist
Full-time
Paducah
4/7/2021
Apply here

General Summary/Purpose:
Internal Audit supports management's commitment to a sound internal control structure, provides reasonable assurance to management that the internal control structure can be relied upon to mitigate the inherent risks, and provides an objective and independent review of the operations of the Company.

Key Duties and Responsibilities:
Detailed Audit Testing and Follow-Up
Assist External Auditors with Testing and Data Collection
Detailed Compliance Testing
Report Review

Qualifications:
Accounting degree (4 years)
Audit or banking experience
Attention to detail
Ability to work independently


Chief Financial Officer
Full-time
Lexington
4/7/2021
Apply here




The American Board of Family Medicine (ABFM) is seeking a dynamic and forward-thinking Chief Financial Officer (CFO). This position starts July 1, 2021 at our headquarters in Lexington, KY.

This position has a multitude of duties, which include:
• Partnering with senior leadership to develop and manage the organization's overall strategic plan.
• Managing all aspects of ABFM financial reporting, which includes working with internal constituents, external vendors, and other involved parties.
• Overseeing the risk management function of the organization.
• Coordinating the development and management of the annual ABFM budget and audit.
• Modelling business implications of the evolving needs and technology of Board Certification, including its underlying information technology foundation.

Candidates need to have their CPA designation, a Bachelor's Degree in Accounting/Finance, and 10+ years of accounting/finance experience. We are also looking for experience working with audit processes, governmental and other grant accounting, and prior Controller/CFO roles.

Financial Planner
Full-time
Covington
4/7/2021
Apply here




MCF is searching for a Financial Planner in our Covington office to serve a variety of functions within the firm. he primary job responsibilities include supporting Financial Advisors within the organization in servicing existing clients, offering leadership to clients in a relationship management capacity, and delivering an exceptional day-to-day service experience to MCF's clients.

The role will assist in client communications, as well as work directly with Financial Advisors (who may serve as the primary Lead Advisor) and Client Associates on client servicing needs, financial planning data entry and strategy, and preparing investment or planning recommendations. Specifically, the Financial Planner will prepare and coordinate client review meetings, including assisting with scheduling, updating data within the client financial plan, and coordinating serviceable action items, among other duties.

Click here to review the complete job description.
Financial Planning Analyst
Full-time
Louisville
4/7/2021
Apply here

Position Overview
The FP&A Analyst plays a crucial role in the coordination between the Commercial team and the Finance function and is responsible for planning, reporting, analyzing and achieving business results.

This role teams up with the Global FP&A Manager Commercial, the North American Sales Director & Key Account Managers, SG&A functional Leaders and FP&A Analysts-Operations.

The FP&A Analyst provides reporting summaries by segment/by customer, performance analysis to enable pricing actions, and support to analyze growth opportunities.


Treasury Intern
Internship
Louisville
3/24/2021
Apply here




Responsibilities:
- Responsible for opening and sorting daily mail runs
- Manage daily deposits into various bank accounts
- Load journal entries into PeopleSoft (GL software) for a variety of transactions
- Responsible for daily and monthly filing of Treasury documents
- Copy, Fax, Scan, Shred various Treasury documents
- Complete and Upload Balance Sheet Reconciliations

Position Requirements:
1. Maintain 3.0 cumulative GPA (4.0 scale)
2. Hours: Minimum of 20 hours per week during the Fall and Spring semesters and 30 hours per week during the summer and school breaks (between 11-3pm preferred)
3. Have completed Introductory Principles of Accounting
4. Experience using Microsoft Excel and Word

Questions: Email emily.donovan@atriaseniorliving.com

Finance Officer
Full-time
Shepherdsville
3/24/2021
Apply here

The City of Shepherdsville is accepting applications for City Finance Officer until April 21, 2021 at 4 p.m.

Job Objectives: Responsible for preparing all accounting information, financial statements, investments, debt financing, budgets, audit information and other financial dealings of the City

Educational Requirements: Graduation from an Accredited College or University with a bachelor's degree in Accounting, Finance, Business Administration or a closely related field and 4 years of progressively responsible and related experience required; Five years of related work preferably government experience;

Special Qualifications: Must be bondable; Must qualify for Notary Public Commission; Certified Public Accountant required

Reporting Responsibility: Reports directly to the Mayor

Applications can be picked up at City Hall, 634 Conestoga Parkway, Shepherdsville KY 40165.

A Resume must be included with the Application.

EOE


Questions: Email trichmond@shepcity.com

Auditor
Full-time
Louisville
3/24/2021
Apply here

We have great opportunities for staff and senior level auditors in our Louisville office. These positions offer outstanding potential for growth and the opportunity to work with clients of various sizes, stages and industries throughout the region.

What do we look for?

Prior audit experience, preferably in a public accounting firm: 2 or less years for staff level and 2+ years for senior level
Accounting degree (4 year)
Excellent written and verbal communication skills
Integrity and strong work ethic
Timely and accurate with close attention to detail
Ability to balance multiple priorities well
Team focus
Positive attitude


Questions: Email rbroom@dmlo.com

Accountant

Full-time
Louisville
3/17/2021
Apply here

C2 Strategic Communications LLC, a growing public relations firm in Louisville, KY, seeks an accountant to support the controller in financial reporting for the firm and a related real estate holding company. The accountant will assist with processing daily transactions and biweekly payroll, as well as monthly invoicing and closing the books. This is a full-time position with a competitive salary and benefits. A detailed job description is available at the following link: https://c2strategic.com/accountant/. Interested candidates should submit a cover letter and resume to the controller, Lisa M. Jessie CPA at lisa@c2strategic.com.
SALARY INFO
Student EMPLOYER GUIDE
The future CPA's guide to passing the CPA Exam and finding their dream job!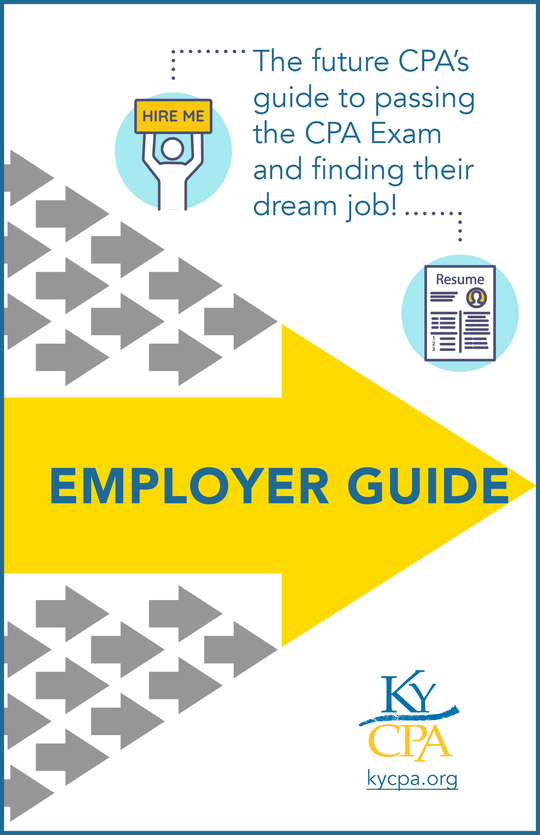 Do you want to become a CPA? The Kentucky Society of CPAs Employer Guide is a valuable resource as you begin your journey. It profiles organizations in Kentucky that are interested in hearing from bright, motivated individuals who want to start their professional career with a forward-looking employer. It also provides you with everything you need to know about applying for and taking the CPA Exam so you can become a CPA and get noticed by employers.