Open accounting-related positions
Click here to post an open accounting-related position in Kentucky or a surrounding area. Your open position will appear on this page for one month, a link to this page will be shared in our monthly e-newsletter to KyCPA members and on KyCPA social media one-time per month. Postings are free for KyCPA members and $50 for each posting for non-members.
Open position
type
Location
Date posted
Apply
Controller
Full-time
Louisville, Kentucky
5/28/2021
Apply here
Multi-branch Financial Institution is seeking a Controller.

***** Certified Public Accountant Certification (CPA) is required.*****
***** Must possess strong leadership skills *****

Manage and oversee the financial and accounting functions to include: ALM, AP, AR, budgets, GL, investments, financial analysis, financial reporting and recordkeeping.

Coordinate all internal, external, and regulatory audits. Outstanding audit/exam reports are expected.

Manage and oversee the reconciliation of all GL accounts and perform reconciliations for all investment related accounts.

Prepare GL adjustments, including accruals, for month-end or quarter-end closings.

Perform variance analysis of monthly financial data.

Supervise and authorize payment of all properly approved invoices and ensure charges post to the correct GL accounts.

Monitor and project cash requirements, cash availability, funding requirements, loan funding projections and deposit flows.

Prepare the monthly Allowance for Loan Loss analysis and Provision for Loan Loss recommendation.

Serve as a backup to CFO.

Internal Audit Manager
Full-time
Louisville, Kentucky
5/24/2021
Apply here

Dean Dorton, in addition to its traditional tax and assurance services, provides risk advisory services. These risk advisory services include internal audit consulting, internal audit co-sourcing, Sarbanes-Oxley compliance, enterprise risk management, forensic accounting and other related services. In this role, you will partner with our clients to manage risk through performance of financial, operational, controls and compliance audits as well as provide valuable business insights through data analytics and benchmark reporting. This includes risk assessments, controls optimization, developing test plans, and drafting findings/reports.

This is an opportunity for an Internal Audit Manager who is seeking a unique opportunity to grow their career through managing challenging assignments, mentoring and developing team members, and continuously bringing value-added services to our clients.

Specifically, we are seeking individuals with the following qualifications:

Six (6) to eight (8) years of internal audit experience.
Experience leading, coaching and developing team members
CIA or CPA preferred.

Audit Supervisor
Full-time
Louisville or Lexington, Kentucky
5/24/2021
Apply here

We are seeking an Audit Supervisor to join our assurance services team in Lexington, KY or Louisville, KY. As a leading full-service accounting and business advisory firm in the Southeast, Dean Dorton has a position wherein you will be pivotal in planning and leading audit and attest engagements. This will include managing client relationships, providing advanced specialized support, identifying opportunities to expand services & improve client profitability and assign, mentor and develop staff accountants.

CPA with 2 – 6 years auditing experience in public accounting required.
Qualified candidates will have managed multiple engagements in a fast-paced environment.

Dean Dorton Allen Ford's audit approach requires that the auditor have a sound understanding of a client's operations and the environment in which they operate. We believe in utilizing a consistent team throughout an engagement and also believe very strongly in proper planning.

Grant Accountant II
Full-time
Louisville, Kentucky
5/24/2021
Apply here
Park Community Credit UnionGreat Opportunity for someone with Grant Accounting experience. Please click here for details!

CPA Senior/Manager
Full-time
Madisonville, Kentucky
5/24/2021
Apply here
Tax preparation services which include individual, corporate/partnership, and not for profit entities. Compilation and review services, along with monthly write up services. Berry Kington & Utley PSC offers a variety of services to clients in Western Kentucky. This position offers ownership opportunities.
Chief Financial Officer
Full-time
Louisville, Kentucky
5/19/2021
Apply here

This position is responsible for the planning, implementation, and management of all financial activities, including business planning, budgeting, forecasting, daily operations, reporting, and negotiations. The position is also responsible for the organization's performance analytics, assessing and evaluating the organization and its business units with regards to both short- term and long-term operational goals, growth pipelines, budgets, forecasts, expense management, and vendor relationships.

Click here for a complete job description. 


Finance Director
Full-time
Knoxville, Tennessee
5/5/2021
Apply here

Reporting to the Chief Financial Officer, the Finance Director applies advanced accounting knowledge and expertise in strategic financial management to carry out the Agency's financial goals. The Finance Director, as a member of the leadership team, is actively involved in creating financing strategies that support the agency's investments in housing, neighborhoods and people. Responsible for oversight of the accounting department, this position manages multiple projects, programs, systems and processes necessary for effective mitigation of risk, timely processing of transactions and accurate reporting of financial information to a wide variety of internal and external customers.

Click here to see the full job posting and description.


Accounting Clerk
Part-time
Lexington
5/4/2021
Apply here

Kehrt & Associates

Responsibilities include experience with QuickBooks (desktop or online), invoicing Accounts Receivable, Accounts Payable, bank reconciliation, preparation of journal entries, ordering supplies, other general office duties including filing, letter composition, etc.

Also responsible for monthly write-up of clients in various industries. Potential to assist with tax preparation during "busy season".

Tax Accountant-Manager
Full-time
Lexington
5/4/2021
Apply here

Tax preparation services which includes, individual, corporate/partnership, write up work, and desire to meet and effectively communicate with clients. Kehrt & Associates is a small individually owned firm, client driven, with approximately 900 clients with differing needs, encompassing many industries.

Prefer experience with QuickBooks, CCH ProSystem fx and Thomsen Reuters Ultra Tax.

This position has succession opportunities.

Controller

Part-time

Louisville

5/4/2021

NSCF seeks a collaborative, self-motivated, seasoned and detail-oriented individual to serve as this growing organization's Controller. Reporting to the Chief Executive Officer and the Chief Financial Officer, the Controller will be a part-time employee or contractor who works approximately 8-15 hours per week to lead and execute all aspects of the organization's financial affairs, including cash management, accounts payable, grants administration, payroll, budgeting, investment management, staffing the Finance Committee of the Board, year-end closing, liaison with auditors and tax preparers and management of program related investments. The successful candidate will have demonstrated ability to interact in a highly professional and entrepreneurial environment to manage NSCF's complex and multi-faceted financial management needs. Qualifications and experience include a Bachelor's Degree in accounting and at least five years' experience in progressively responsible accounting positions in a non-profit or entrepreneurial business. CPA preferred. Proficiency in QuickBooks, payroll processing and Microsoft Office products.


Questions: info@nationalstemcellfoundation.org

Senior Tax Manager, Family Office
Full-time
Cincinnati, Ohio
5/4/2021
Apply here

Centennial is an executive search firm, that is looking for a Senior Tax Manager for our Cincinnati-based client.

Are you a CPA who is an exceptional communicator and able to distill complicated information into relatable terms? Is a work-life balance a priority for you? Do you have experience with the preparation of tax returns and assisting with the implementation and execution of estate planning strategies for high net-worth clients? And do people find you approachable and likable? If so, keep reading.

Our client, a family office focused on family wealth management, is seeking a Sr. Tax Manager and Team Lead for their highly synergistic team. They need a tech-savvy professional who is willing to help in any capacity but is dedicated to leading a team of three and providing tax expertise to the clients of the organization.



Click here to get the full job description and apply.

Audit Supervisor
Full-time
Louisville
5/4/2021
Apply here

We are searching for an Audit Supervisor to join our downtown Louisville office. This individual will be responsible for a wide variety of duties including organizing and managing client assignments and projects as well as advising and directing team members in meeting client and self-development expectations with minimal supervision.

Supervisors are responsible for organizing and managing client assignments and projects, including the completion of assignment tasks and project components, as well as advising and directing team members in meeting client and self-development expectations. Supervisors can perform most engagements without field supervision. They direct and review the work of seniors, advanced staff, and staff accountants, and are capable of making decisions on most accounting, tax, and auditing matters. They use their advanced technical and client knowledge to recognize areas to add value to the client. They take on leadership roles to support the firm's initiatives.


Questions: HumanResources@STROTHMAN.COM

Staff Accountant
Full-time
Louisville
4/28/2021
Apply here

Talis Group's client is a thriving Louisville, KY construction industry company working on high profile projects in the region. This new Staff Accountant position will assist Controller by performing general accounting functions such as payroll, bank reconciliations, general ledger entries, assisting with monthly close and posting accounts payable. Position will be trained to do AIA contract billing and construction job costing as well as other functions to support Controller. Excellent opportunity for an upbeat professional who enjoys a fast-paced environment with multiple responsibilities. Market competitive compensation and full employee benefit package. Apply today and start a bright new future at a successful company!

Click here for full job description and to apply today!

Senior Treasury Analyst
Full-time
Louisville
4/21/2021
Apply here

Description:
The Treasury department operates in a fast-paced work environment, focusing on managing the liquidity of Atria's business. The Senior Treasury Analyst interacts with the Treasury team, other internal departments, as well as external individuals to support all aspects of treasury operations. Responsibilities include, but are not limited to, cash forecasting, bank account management, financial analysis, and the daily cash management function. This individual also handles ad-hoc projects as requested by the Management of the Treasury Department.

Requirements:
Three (3) to five (5) years of accounting or finance experience; previous experience in a Corporate Treasury function and CTP certification is preferred.

Click here for more details and requirements.


Finance Director
Part-time
Melbourne
4/21/2021
Apply here

The Congregation of Divine Providence has a wonderful opportunity for an experienced Finance Manager/Director. This is a part time position working 20 hours a week with very flexible hours.

As a part-time employee you will also be eligible for our benefits program including medical insurance, retirement, vacation, and other valuable benefits.

Qualified applicants would have a degree in Finance or related field with experience in the financial field. Experience working for a non-profit would be a plus. Excellent communication and organization skills and working knowledge of investments, accounting, budgeting, and various computer software programs including QuickBooks and Excel are needed.

Principal duties and responsibilities include Financial Accounting and Reporting as well as administrative duties covering areas such as the oversight of Congregational investments and property and liability insurance, monitor risk management policies and procedures, in addition to other administrative duties.

SALARY INFO
Student EMPLOYER GUIDE
The future CPA's guide to passing the CPA Exam and finding their dream job!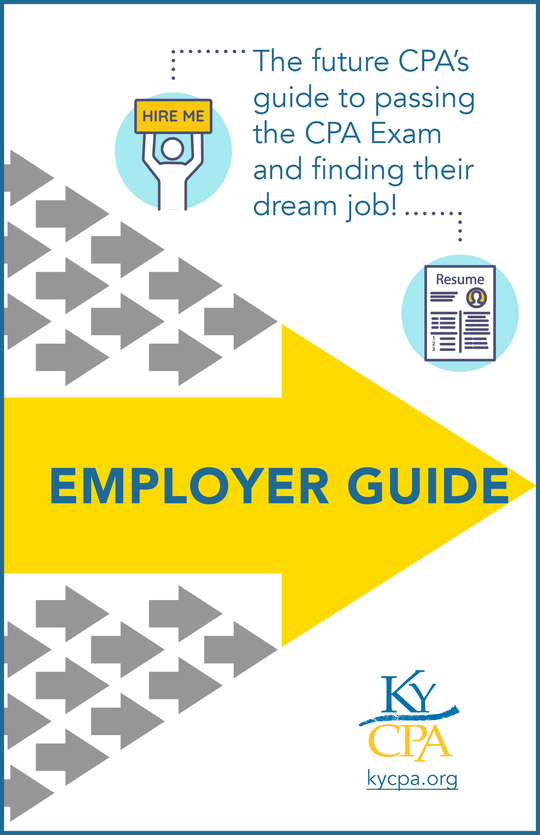 Do you want to become a CPA? The Kentucky Society of CPAs Employer Guide is a valuable resource as you begin your journey. It profiles organizations in Kentucky that are interested in hearing from bright, motivated individuals who want to start their professional career with a forward-looking employer. It also provides you with everything you need to know about applying for and taking the CPA Exam so you can become a CPA and get noticed by employers.