Open accounting-related positions
Click here to post an open accounting-related position or internship in Kentucky or a surrounding area. Your open position will appear on this page for one month, a link to this page will be shared in our monthly e-newsletter to KyCPA members and on KyCPA social media one-time per month. Postings are free for KyCPA members and $50 for each posting for non-members.
Audit Full Time (Audit Senior Associate - Manager)

Full-time

Lexington, KY

5/19/22
Apply here

Miller Mayer Sullivan & Stevens, a firm located in Lexington, KY, is seeking an audit professional with two to six years of auditing experience in public accounting.

At Miller Mayer, we strive to provide our clients with the highest level of professional service. Our firm has significant experience in providing audit and tax services for over 300 affordable housing complexes regulated by the U.S. Department of Housing and Urban Development (HUD), U.S. Department of Agriculture Rural Development (RD), and the Internal Revenue Code low-income housing tax credit (LIHTC). We also provide audit, review, compilation and tax services for small businesses, local governments, and not-for-profit agencies, including audits under Government Auditing Standards and OMB Uniform Guidance.

Our firm of 20 employees prides itself on providing excellent client service while offering career advancement and ownership opportunities and work/life balance for its employees. 

Job Responsibilities:

Become familiar with the Firm's policies and procedures
Develop a working knowledge of Firm technology
Be familiar with applicable pronouncements of the FASB, AICPA, and other professional standards, as needed
Develop effective client relationships through professionalism and follow-through
Assume responsibility for efficiently supervising both audit and non-audit engagements
Plan, supervise, and complete routine engagements including reviewing engagement workpapers, resolving problems, and keeping the manager/partner informed of all important engagement developments

Supervise co-workers, providing feedback to them, and evaluating their progress
Recognize opportunities to provide additional services to existing clients
Maintain a professional demeanor with co-workers and clients
Adhere to deadlines and communicate issues to the manager/partner
Perform other duties and projects as assigned

Desired Skills & Expertise:

Bachelor's or master's degree in Accounting or Finance
Confidentiality, careful work, and attention to detail
Excellent verbal and written communication skills
Ability to work independently as well as in a collaborative environment
Experience with Caseware software is preferred

 

 

Tax Accountant

Full-time

Fort Mitchell, KY

5/19/22
Apply here

Neltner CPA Firm

Please see the full posting in LinkedIn or Indeed.

Small suburban CPA firm in Fort Mitchell seeks hands-on CPA/Small Business Accounting & Tax Advisor to make a direct contribution to our firm's clients and our firm's future

Required Experience:

CPA with 5 to 10 years' experience in accounting and tax preparation for small businesses ($0.5MM to $10MM in annual revenues) and individuals.

The ideal candidate has either begun or is ready to begin reviewing tax returns prepared by others.

Desired Skills & Traits:

Ability to understand client business models and goals
Applying accounting expertise to obtain insightful view of client financial data
Providing relevant tax and advisory solutions to clients
Listening to client needs and desires
Effectively communicating results and recommendations
Building up the client relationship and experience
The right balance of listening and taking action
Ability to invest heart and soul in the work

 

 

Government Audit Senior

Full-time

Lexington, Louisville or Cincinnati

5/19/22
Apply here

We're a top-60 accounting firm offering careers in accounting and consulting with a culture built on guidance, flexibility, opportunity, and support. We are looking to add an audit senior or manager to our government/not-for-profit practice to work directly with firm leadership to grow this practice area. A good opportunity to gain a diverse spectrum of government experience. Please see the link below for a full description of the opportunity and its requirements.

 

CPA - Tax Accountant

Full-time

Louisville, KY

5/19/22
Apply here

 

King + Company, CPAs is a full-service public accounting firm founded in 1981. We provide corporate and individual tax, accounting and audit services to banks, holding companies, manufacturing companies, small businesses, non-profits and their officers and directors.

We are looking for a dedicated and motivated individual to join our team. Salary is negotiable based on experience and qualifications.

Job Duties:
Prepare and review federal and multi-state income tax returns for individuals, partnerships, corporations, and trusts along with its related income tax work papers
Research technical tax information
Perform tax planning
Respond to and prepare correspondences to tax authorities
Prepare and review financial statements
Provide various accounting services and support to corporate clients including but not limited to: Software implementation and assistance, adjusting and closing journal entries, bookkeeping, payroll and sales tax returns, budgeting and cash flow analysis.
Perform GAAP audits of corporations, non-profits, and retirement plans

 

 

Visiting Assistant Professor of Managerial Accounting

Full-time

Georgetown, KY

5/11/22
Apply here

Georgetown College seeks applications for a full-time Visiting Assistant Professor of Managerial Accounting, beginning August 2022. The successful candidate must have a relevant graduate degree and must be qualified to teach Cost Accounting, Income Tax, and Principles of Accounting I and II. The successful candidate will teach a 4/4 load per academic year. For those who do not hold a terminal degree, professional certification (e.g., CPA, CMA, CIA, CFE) with accounting work experience is preferred.

Screening will begin immediately and continue until the position is filled. To be considered for the position, send letter of application, vita, unofficial transcripts, statement of teaching philosophy, and three letters of recommendation. All materials should be submitted electronically to Dr. Jonathan Sands Wise, Provost/Dean of the College to provost@georgetowncollege.edu.

More information at www.georgetowncollege.edu

 

Staff Accountant

Full-time

Shelbyville

5/10/22
Apply here

FULL-TIME STAFF ACCOUNTANT position at Shelbyville, Kentucky CPA firm. Additional hours required during January – April. Position will be responsible for preparing income tax returns, client accounting services, and payroll tax preparation. Bachelor's degree in accounting or related field required. CPA licensure preferred. Tax preparation and client accounting experience preferred. Compensation is commensurate with experience.

 

 

Accountant/CPA

Full-time

Louisville

5/10/22
Apply here

Hart & Associates, CPAs, PSC

Responsibilities include preparation of payroll, payroll taxes, individual and business tax returns, and monthly bookkeeping and bank reconciliations.

Work with a great staff, great hours and great benefits!

 

 

Accounting Manager

Full-time

Louisville

5/4/22
Apply here

A local Louisville advertising agency is looking for a strong Accounting Manager to join their friendly team. Reports to VP of Finance, oversees daily accounting and a staff of two. Must have advanced Excel skills to work with complicated formulas, pivot tables and vlookups. Compensation ($65k - $75k based on experience), employer profit sharing, full employee benefits. Company offers a collaborative, casual, but fast-paced creative atmosphere-- apply today!

Highlighted Duties:
• Oversee two Accounting Assistants
• Manage the RP/AR process
• Ensure policies are followed
• Multi-state Payroll assistance
• Comply with state and local tax withholdings
• General Ledger entries and bank account reconciliation
• Assist with financial statements, regulatory reporting
• Preparation of weekly reports
• GAAP compliance

Highlighted Requirements:
• Bachelor's in accounting/related field
• 2+ years progressive daily accounting experience
• Excel power user
• Payroll processing experience
• Motivated, organized, self-directed with the desire to get the job done
• Accounting experience at a small/mid-sized company preferred

 

Cost Accountant

Full-time

Jeffersonville, IN

5/4/22
Apply here

 

A leading food manufacturer located in the Jeffersonville, IN is looking for a strong Cost Accountant to join their team. Position reports to the VP of Finance and will maintain the financial records for production and identify, lead, and drive process improvements leading to operational efficiencies. Excellent benefits-- generous PTO, 401K plan w/match and bridge toll stipend if applicable for KY residents.

Highlighted Duties:
• Provide cost accounting, profitability and analysis
• Prepare related journal entries for month end close
• Assist with budget and forecast preparation
• Research and report any discrepancies or budget variances
• Assist with inventory, provide inventory reconciliation based on cycle count reports
• Assist with ERP system training as needed

Highlighted Requirements:
• Bachelor's degree in Accounting / Finance or related field required
• 2+ years of financial experience in a manufacturing environment including cost accounting
• Knowledge of ERP systems required, advanced Excel skills
• Financial analysis and budget management experience

 

Senior Accountant

Full-time

Louisville

5/4/22
Apply here

 

A thriving family-owned company with prominent regional construction projects is looking for a bright and motivated Sr. Accountant to assist the Controller. Sr. Accountant will perform financial analysis, financial reporting, general ledger entries, bank reconciliations, payroll taxes and AR/AP Ledger. This is a new addition to the accounting team in the Louisville, KY headquarters due to company growth. Compensation based on experience ($75k - $95k) and full employee benefits. Apply today!

Highlighted Duties:
• Responsible for financial analysis & financial reporting
• Review general ledger
• Bank account reconciliation
• Assist with certified payroll processing when needed
• Assist with AR and AP processing when needed

Highlighted Requirements:
• Bachelor's in accounting or related field
• 2+ years progressive accounting experience
• Construction contract billing background a plus
• A customer service focused accounting professional who works well with clients
• Excellent written, oral, listening, presentation, influence, and interpersonal skills
• Organized and efficient in a fast-paced environment
• Advanced Excel skills

 

 

Controller

Full-time

Remote (Headquarters in Lexington, KY)

5/4/22
Apply here

AMR is currently seeking a full-time remote Controller to join our team.

The Controller will be a key leader for the financial operations of AMR and our clients. This role is responsible for providing technical accounting expertise, improvement of financial processes, and development of a strong accounting team and accounting services. You must be a hands-on, roll up your sleeves type of manager and should enjoy a fast-paced, client service environment.

To learn more please visit: https://recruiting.paylocity.com/recruiting/jobs/Details/1071829/Association-Management-Resources/Controller

 

Tax Accountant

Full-time

Hopkinsville

5/4/22
Apply here

Duguid, Gentry & Associates is a local full-service CPA firm with offices in Hopkinsville, KY and Clarksville, TN offering tax preparation, accounting, payroll and audit services to businesses and individuals.

Responsibilities
• Preparation of individual, corporate, partnership and nonprofit returns.
• Research of tax laws and rulings.
• Communication with taxing authorities.
• Provision of tax consulting services.
• Conduct tax department review and quality control processes.

Requirements
• CPA designation preferred.
• Bachelor's degree with a major in accounting from an accredited college or university.
• Minimum 3 years' tax experience.
• Experience using Windows-based operating systems and Microsoft software including, but not limited to, Word and Excel.
• Strong written and verbal communication skills.
• Ability to work both independently and in a team environment.

Compensation/Benefits –
• Compensation based on experience
• Benefits include employee health and vision insurance, life insurance, SIMPLE IRA, paid time off
• Flexible and remote working options

 

Audit Manager

Full-time

Hopkinsville

5/4/22
Apply here

Our public accounting firm is seeking an audit manager to oversee audits in Kentucky and Tennessee. Our firm specializes in, but is not limited to, governmental and nonprofit financial statement audits.

Responsibilities of Audit Manager:

• Leading all aspects of assurance engagements, from planning to completion
• Supervising and mentoring staff and senior accountants
• Building and maintaining client relationships
• Managing multiple audit/review engagements

Requirements of Audit Manager:

• Bachelor's degree in accounting
• Minimum of 5 years' experience in public accounting
• CPA certification
• Be a member in good standing with the American Institute of CPAs (AICPA) and State Institute of CPAs

Compensation/Benefits:

• Compensation based on experience
• Benefits include employee health and vision insurance, SIMPLE IRA, paid time off
• Opportunity for partner track
• Flexible and remote working options

 

CFO

Full-time

Portsmouth, OH

4/4/22
Apply here

CFO LOOKING FOR A SUCCESSOR.

CFO is recruiting a successor to accept the role of leading a hardworking and effective team of finance, accounting, information technology, and human resource professionals.

There is no accounting opportunity in the tri-state as time-tested, entrepreneurial, and rewarding as this. Steward and improve the administrative support systems that serve the needs of our employees, customers, and vendors. Be of service to our functional department team leaders and other professionals. Bring yourself to the position, make it your own, be creative and proud. Join us, take care of our family businesses and make your professional dreams come true.

Please go to www.glockner.com and select the careers tab.

 

 

Plant Accountant

Full-time

Somerset, KY

4/4/22
Apply here

Hendrickson

Split time supporting the Somerset Plant, Division Controller and Finance Manager
Perform month-end financial close for the Somerset KY Plant. Record manufacturing expenses, depreciation, taxes, and other overhead expenses
Provide manufacturing cost and variance analysis for the Somerset Plant
Understand monthly financial results and key operating metrics, communicating these results to the Plant Management Staff
Produce daily, weekly, monthly reports for the Plant Manager
Ensure adequate internal controls exist and are utilized at the plant.
Identify areas of weakness and assists local management in implementing corrective action
Support divisional requirements such as internal/external audits
Provide financial support for capital development projects from approval to installation
Assist in developing monthly forecasts and annual operating plan
Perform monthly reconciliation of balance sheet accounts
Maintain Fixed Asset System for the Somerset Plant
Assist in tracking product margins, cost reductions and new product programs

 

 
SALARY INFO
Student EMPLOYER GUIDE
The future CPA's guide to passing the CPA Exam and finding their dream job!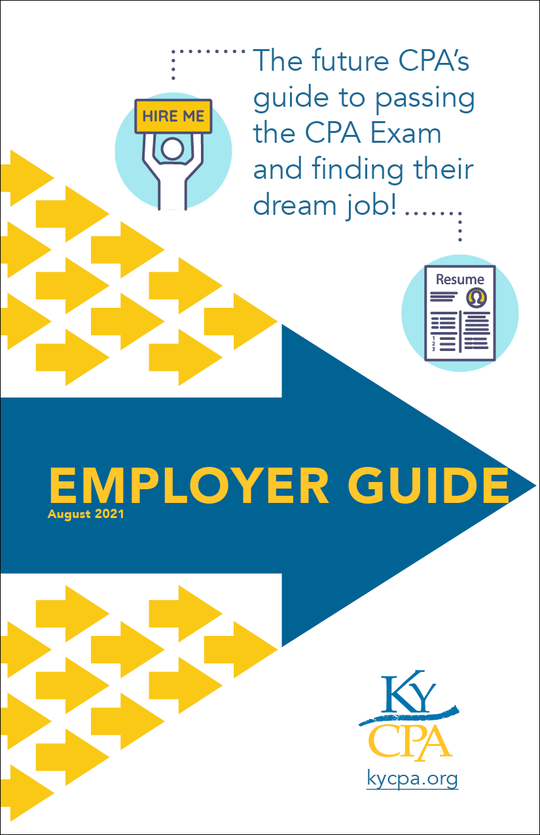 Do you want to become a CPA? The Kentucky Society of CPAs Employer Guide is a valuable resource as you begin your journey. It profiles organizations in Kentucky that are interested in hearing from bright, motivated individuals who want to start their professional career with a forward-looking employer. It also provides you with everything you need to know about applying for and taking the CPA Exam so you can become a CPA and get noticed by employers.