Open accounting-related positions
Click here to post an open accounting-related position in Kentucky or a surrounding area. Your open position will appear on this page for one month, a link to this page will be shared in our monthly e-newsletter to KyCPA members and on KyCPA social media one-time per month. Postings are free for KyCPA members and $50 for each posting for non-members.

Open position
type
Location
Date posted
Apply
Assistant Professor of Accounting
Full-Time
Lexington
11/18/2020
Apply here

Transylvania University invites applications for the position of Assistant Professor of Accounting/Instructor of Accounting beginning on September 1, 2021. Depending on the qualifications of the successful candidate, this could be a tenure-track position (at the rank of Assistant Professor) or a three-year, non-tenure-track position (at the rank of Instructor) with the possibility of renewal. Responsibilities include teaching courses that may include Audit, Corporate Accounting, Cost Accounting, Income Taxation, Governmental Accounting, Data Analytics, Managerial Accounting and Principles of Accounting. Preference will be given to candidates with a Doctoral degree in Accounting, Business or related field, a CPA and undergraduate teaching experience. Strong candidates with a Masters in Accounting and a CPA are encouraged to apply; tenure-track status is contingent on completion of the Ph.D. Click here for more details and to apply. Transylvania University is an Equal Opportunity Employer and is committed to enhancing the diversity of the university community.


Audit Senior or Audit Manager
Full-time
Louisville
11/18/2020
Apply here

Company: Monroe Shine & Co., Inc.

We are looking to grow our team! We are looking for an Audit Senior or Audit Manager who must exhibit a high standard of professional ethics and accept responsibility as the in-charge accountant for assigned audit areas on privately owned business, not-for-profit, and employee benefit plan audits.

Qualifications include:
• Strong organizational skills and attention to detail required
• Project management, analytical, oral, and written skills required
• Ability to complete assignments within time constraints provided
• A four-year accounting degree and CPA certification required
• Specific experience in not-for-profit, construction, manufacturing, and/or
employee benefit plan audits would be helpful
• Experience with ProSystems Engagement and Thomson Reuters
Checkpoint helpful
• Minimal, if any, overnight travel required

For more info on the position, see https://www.monroeshine.com/auditsenior.php

Finance Controller
Full-time
Louisville
11/18/2020
Apply here

Company: Kleinert Kutz

Responsible for all general accounting activities including maintenance of GL, preparation of monthly financial statements, P & L documents. Will co-ordinate with the company CPA firm in preparing regular audited financial statements, sales tax reports, annual tax documents. Will serve as the 401K in-house administrator for the Company Plan with duties including inclusion and exclusion of employees into and out of the plan, loans, contribution calculations, preparing annual audits, coordinating with the Third Party 401K Administrator. Oversee Payroll and Accounts payable activities and supervise personnel responsible for these. Work in coordination with the CEO on Employee Health Insurance, Malpractice Insurance, Work Comp, General and Commercial Insurances. Work with the CEO and CPA firm in preparing documents for COVID-related PPP, HHS and Medicare loans/grants. Responsible for calculation of monthly draws of Partners, co-ordinate with their respective tax accountants in the preparation of quarterly tax estimates, preparation of K1 documents.


Tax Senior
Full-Time
Edgewood
11/10/2020
Apply here

Company: Hannegan & Associates

We are a growing CPA firm looking for an experienced tax professional who appreciates work/life balance to join our team in either our Northern Kentucky or Hyde Park office.

Requirements:
- Must be a CPA with 5-7 years of current full-time experience

- Have experience in preparing individual, business, fiduciary, and non-profit tax returns.

- Be able to review tax returns prepared by less experienced staff and provide coaching.

- Experienced in responding to client notices from taxing authorities.

- Know how to research technical tax issues

- Be proactive in providing tax planning advice to clients

- Have good organizational skills to handle multiple assignments at one time.

- Possess great written and verbal communication skills, and know-how to not speak in "Accountant"

- Love dogs... as there is often one in the office!


Internal Auditor
Full-time
Louisville
11/10/2020
Apply here

Company: Limestone Bank

The Internal Auditor is responsible for managing the Bank's Internal Audit function and providing an independent assessment on the governance, risk, and control environment to ensure compliance with both internal policies and procedures and banking regulations.

Requirements: Bachelor's degree in Accounting, Finance, or equivalent field

Minimum of 2 years of previous experience in internal audit at a financial institution or equivalent experience (such as bank auditing at a public accounting firm) preferred.


Senior Tax Accountant
Full-time
New Albany, Indiana
10/31/2020
Apply here

Company: Deming, Malone, Livesay & Ostroff

We are looking for candidates who have demonstrated an ability to oversee and perform a wide variety of diversified accounting and tax assignments. Senior Accountants are responsible for ensuring work is completed timely and often lead one or more staff, instruct them in work to be performed, review work completed, and direct necessary revisions.

As a Senior Tax Accountant, your responsibilities will include:

Preparation of complex business tax returns.
Completing tax planning for clients.
Performing research on technical accounting and tax issues.
Maintaining strict confidentiality of all client matters.
Participating in external networking events and cultivating client relationships.
Performing other accounting and tax duties as needed and assigned by supervisory personnel.


Tax Manager
Full-time
New Albany, Indiana
10/31/2020
Apply here

Company: Deming, Malone, Livesay & Ostroff

We are looking for candidates who are motivated to advance their career in public accounting and who have demonstrated an ability to lead others. Managers lead one or more staff members, instruct them in work to be performed, review the work done, and direct necessary revisions.

As a Manager, your responsibilities will include:

Supervising and mentoring staff in work to be performed and providing holistic feedback to them about their job performance and career growth.
Assuming full responsibility for planning, supervising, and completing multiple engagements.
Preparing complicated tax returns and returns on dissolution or liquidation.
Conducting detailed reviews on a variety of tax returns and raising potential tax issues.
Demonstrating the ability to provide quality tax planning to clients.
Researching complicated tax issues and providing accurate technical guidance.

Audit Staff - Senior - Supervisor
Full-time
Louisville
10/31/2020
Apply here



Company: Deming, Malone, Livesay & Ostroff

We have great opportunities for experienced auditors. These positions offer outstanding potential for growth and the opportunity to work with clients of various sizes, stages and industries throughout the region.

Prior audit experience, preferably in a public accounting firm –
1+ years for staff level and 3+ years for senior/supervisor level


Senior Tax Accountant
Full-time
Georgetown
10/31/2020
Apply here

Company: Toyota Tsusho America, Inc.

The Senior Tax Accountant position is primarily focused on income tax compliance and reporting, research and other special projects. The candidate should have a strong background in corporate federal and state income tax compliance.

Please click here for a complete job description including skills, experience, and education requirements.

Tax Preparer/Staff Accountant
Full-time
Louisville
10/31/2020
Apply here
Mark A. Hottel, CPA, PSC is a family-owned accounting firm that truly respects a work/life balance. Seeking a full-time Senior tax preparer/staff accountant to join our team. We are a small/mid-sized family-owned firm that has been in business for over 45 years. We pride ourselves with extremely low staff turnover; our current staff averages more than 20 years with us. However, due to the retirement of a 25-year employee and growth of the firm, we have a full-time position 

open

ing this fall.

We are happy to offer a less stressful environment with work/life balance:
Tax Season Schedule
• 8am - 5:30pm MT
• 8am - 6:00pm WT
• 8am - 5:00pm F
Non-Tax Season Schedule
• 8am - 5:00pm MTWT
• 8am - 1:00pm F*

* Staff alternate Fridays during the summer, giving each employee every other Friday off.

• Compensation commensurate with experience
• Minimum of 5 years' experience preparing individual and corporate tax returns.

Gulf Controller
Full-time
Paducah
10/31/2020
Apply here

Company: Marquette Transportation

Principal Responsibilities include, but are not limited to:
• General ledger accountability and financial reporting.
• Assists with month-end financial close by reviewing and analyzing data and preparing journal entries and accruals for approval.
• Reconciles and analyzes general ledger accounts.
• Reviews various documents for proper accounting treatment.
• Assists in preparation and/or review of financial statements.
• Cash management and reconciliation.
• Debt compliance and reporting
• Participates on/leads project teams.
• Seeks out potential areas of improvement and supports continuous improvement projects.
• Interacts with external auditors.
• Other duties or special projects as assigned.

Qualifications:
• Bachelor's Degree in Accounting.
• 3 or more years of accounting experience.
• Microsoft Office skills with strong emphasis in Excel.
• Knowledge of GAAP.
• Strong communication, problem-solving and time management skills.
• Demonstrated examples of leading change and making improvements.
• Proven ability to effectively function in an environment with multiple priorities.
• Ability to analyze financial data and prepare financial reports, statements and projections.


Email: mshelby@marquettetrans.com

Tax Professional
Full-time
Evansville, Indiana
10/31/2020
Apply here

Riney Hancock CPAs PSC is looking for an experienced tax professional to join our team in our Evansville, IN office. Riney Hancock CPAs is a full-service, regional firm with offices in Owensboro, Kentucky and Evansville, Indiana. The Riney Hancock (RH) Team consists of CPAs and business advisors offering a full range of professional tax, audit, accounting, and management advisory services to both businesses and individuals.

Responsibilities include, but not limited to:


Perform tax services for individual and business clients, including planning, tax return and report preparation, research and consulting
Handle all tax authority communications (Federal, State and Local)
Interact with client personnel on tax return information, due dates, deadlines, and other compliance matters and keep team members informed
Identify opportunities to provide additional services to clients
Communicate with Shareholders, analyze problems, and recommend solutions

Accounting Associate

Full-time
Louisville
10/21/2020
Apply here

The Accounting Associate provides oversight and management of financial information through analyzing and reconciling accounts. An outstanding commitment to accuracy and detail is a must, together with a proactive, flexible, team-oriented and collaborative work style.

Essential Duties:
 Prepare and analyze investment account reconciliations on a monthly basis.
 Prepare and analyze operations account reconciliations on a monthly basis.
 Oversee and manage allocation of investment performance to donor funds.
 Provide reports as needed to staff, donors and nonprofits.
 Provide monthly reports to fiscal sponsorships.
 Prepare quarterly donor statements.
 Provide annual audit support.
 Manage general operating ledger accounts.
 Prepare quarterly reporting to affiliates.
 Provide support for preparation of annual 1099 reports.
 Draft minutes for Finance & Audit Committee and Investment Committee meetings.
 Oversee organization of records maintained by the Finance Investment and Operations Team.

Philanthropy Associate Specialist - Gift & Estate Planning

Full-time
Lexington
10/21/2020
Apply here

UK Philanthropy seeks a highly qualified candidate to manage/assist with Trust/Estate matters. The successful candidate will work with units of UK's financial services team and Gift&Estate Planning (GEP) to administer trust/estate proceeds. To close gifts of trusts/estates, s/he will work with executors, personal representatives, trustees, attorneys, fund administrator and investment advisors to complete the transfer of estate, trust, beneficiary, insurance and annuity distribution gifts to UK. S/he will also work with internal units, including gift receiving, university financial services, college and unit philanthropy and business officers, to determine and implement proper use of gift proceeds.

This position will provide assistance in data administration for GEP, update and maintain PG Calc GiftWrap software with current/accurate data regarding these gifts, insurance policies, and other expediencies. S/he will manage/administer the charitable life insurance pool, reviewing annual statements, working with insurance agents, and preparing donor communications and managing communication of premium notices to donors.


Accounting Manager - Healthcare
Full-time
Louisville, Lexington or remotely
10/21/2020
Apply here

Do you have financial management experience in the healthcare industry? Do you like working with a team of professionals to deliver outstanding results? Are you looking to work with clients on opportunities outside of tax and audit? If the answers to these questions are yes, Dean Dorton has THE opportunity for you!

We are looking for an individual with healthcare finance or accounting experience, to join our Accounting and Financial Outsourcing (AFO) team. As an AFO Manager, you will have the opportunity to oversee a team of accounting professionals, manage multiple client relationships, and use cutting-edge technology to meet the needs of our clients.

Please visit the careers page of our website to learn more! And, you can check out Dean Dorton's AFO team and services at deandortonafo.com, including our recognition as a Best Places to Work in Kentucky for 16 consecutive years!

SALARY INFO
Student EMPLOYER GUIDE
The future CPA's guide to passing the CPA Exam and finding their dream job!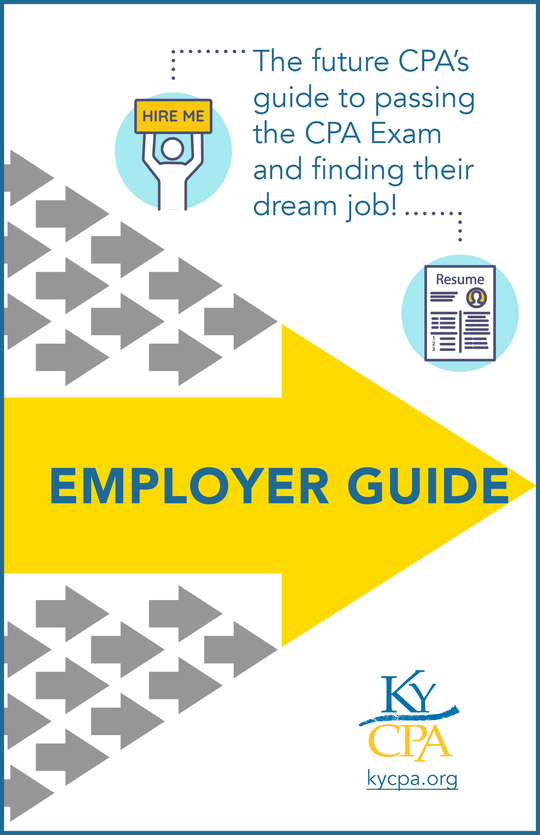 Do you want to become a CPA? The Kentucky Society of CPAs Employer Guide is a valuable resource as you begin your journey. It profiles organizations in Kentucky that are interested in hearing from bright, motivated individuals who want to start their professional career with a forward-looking employer. It also provides you with everything you need to know about applying for and taking the CPA Exam so you can become a CPA and get noticed by employers.