Open accounting-related positions
Click here to post an open accounting-related position in Kentucky or a surrounding area.

Open position
type
Location
Date posted
Apply
Chief Financial Officer
Full-time
Borden, Indiana
9/17/2020
Apply here

The CFO will lead Smith Creek's Financial, Legal, IT and HR functions effectively and productively in order to reach/exceed departmental and organizational goals. Reporting to the Chief Operating Officer, the CFO will foster close working relationships with internal and external stakeholders to ensure Smith Creek's efficient operation, financial success and continued growth. This role will manage 6-8 direct reports including Cost Accountant, Accounting Clerk, HR Generalist, Office Assistants and Shipping Clerk. 

Click here to find out more about this open CFO position.
Find out more about Smith Creek at www.smithcreek.com.

Tax Accountant
Full-time preferred but part-time considered
Lexington
9/16/2020
Apply here

Kehrt & Associates CPA PLLC is seeking an experienced CPA. Must have experience preparing individual, corporate, and partnership tax returns. We also need that person to be familiar with payroll processing (preparing W-2's, 941's, withholding, unemployment reports, etc.) CCH Prosystem tax software and Thomsen Reuters Ultra Tax software experience a plus. Must have experience with QuickBooks, Microsoft Excel and Word.

Very flexible. Prefer full-time position, but will entertain part-time employment depending on the applicant. Kehrt & Associates CPA PLLC is a small, friendly firm with the majority of our work tax-related, but a small amount of payroll processing.


Controller
Full-time
Louisville
9/14/2020
Apply here

Talis Group's client is a fast-growing managed services company with national clients. The company is searching for an energetic and upbeat Accountant to join their team as Controller. The Controller is responsible for managing/coaching staff and the oversight of all day-to-day accounting (including AP, AR, routine GL entries, assisting with month-end close, financial reporting, payroll & supporting policies/procedures) Company is in growth mode and looks forward to adding this accounting lead role to their close-knit team. The company offers well-rounded employee benefits and market competitive compensation.

Duties:

Help maintain a positive organizational culture
Manage accounting and accounting team (oversee AR, AP, billing, monthly close and year-end)
Recommend and implement revisions to accounting processes and procedures
Assist with determining Key Performance Indicators
Financial analysis
Assist President with bids and proposals
Work closely with President to identify/ execute strategic initiatives
Develop and prepare the annual budget
Coordinate with CPA firm and banks on behalf of the company
Responsible for third party administrator for payroll processing
Special financial projects as needed

Requirements:

A spirited approach to leading and encouraging a positive culture within an organization
Bachelor degree in accounting or similar
8+ years of progressive finance and accounting experience at a small to medium-sized company in growth mode
3+ years' experience in a financial leadership role in managing day-to-day accounting
Experience developing accounting staff
Experience streamlining policies and procedures
Excellence verbal and written skills
Advanced Excel skills needed

CPA/
Experienced Tax Return Preparer
Full-time and part-time considered
Bardstown
9/14/2020
Apply here
Smith & Company CPA's is seeking CPA and/or experienced tax return preparer. Must have extensive experience preparing individual, corporate and partnership tax returns. CCH ProSystem tax software experience a plus. 
Bookkeeping and Payroll
Full-time and part-time considered
Bardstown
9/14/2020
Apply here
Smith & Company CPA's has an open bookkeeping and payroll position. Must have experience with QuickBooks, Payroll Processing (preparing 941's, KY withholding reports, FUTA, SUTA, etc). Proficient with Microsoft Excel and Word.
SALARY INFO
Student EMPLOYER GUIDE
The future CPA's guide to passing the CPA Exam and finding their dream job!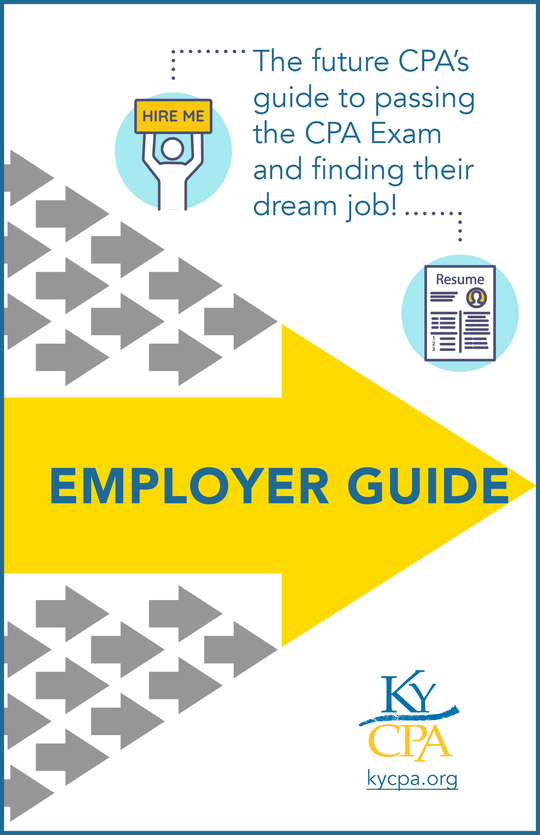 Do you want to become a CPA? The Kentucky Society of CPAs Employer Guide is a valuable resource as you begin your journey. It profiles organizations in Kentucky that are interested in hearing from bright, motivated individuals who want to start their professional career with a forward-looking employer. It also provides you with everything you need to know about applying for and taking the CPA Exam so you can become a CPA and get noticed by employers.