Open accounting-related positions
Click here to post an open accounting-related position or internship in Kentucky or a surrounding area. Your open position will appear on this page for one month, a link to this page will be shared in our monthly e-newsletter to KyCPA members and on KyCPA social media one-time per month. Postings are free for KyCPA members and $50 for each posting for non-members.
Open position
type
Location
Date posted
Apply

Financial Reporting Supervisor

Full-time

Louisville

9/14/21
Apply here

This position for Kentucky Farm Bureau will assist the Financial Accounting Manager in developing and maintaining accounting systems along with recording and analyzing financial transactions and preparing company-wide information for internal and external financial reporting. Performs complex accounting transactions following appropriate procedures for timely and accurate preparation of reports. Responsible for review and approval of the work product of the Financial Reporting Team and escalating significant matters to the Financial Accounting Manager in a timely manner.

Full job description can be found here: https://careers-kyfb.icims.com/jobs/1492/financial-reporting-supervisor/job

 

 

Staff Accountant

Full-time

Lexington

9/14/21
Apply here

Miller Mayer Sullivan & Stevens, a firm located in Lexington, KY, is seeking a tax professional with one to three years' experience.

Our firm of 20 employees prides itself on providing excellent client service while offering career advancement and ownership opportunities and work/life balance for its employees.

Job Responsibilities:
• Become familiar with the Firm's policies and procedures
• Prepare corporate, individual, partnership, and other tax returns
• Research and consult on complex tax matters
• Develop effective client relationships through professionalism and follow-
through
• Maintain a professional demeanor with co-workers and clients
• Adhere to deadlines and communicate issues to supervisor

Desired Skills & Expertise:
• One to three years of experience in public accounting
• Bachelor's or master's degree in Accounting or Finance
• Ability to sit for the CPA exam or have passed sections of the CPA exam
• Experience with QuickBooks preferred
• Excellent verbal and written communication skills


Seasonal Tax Preparation

Seasonal part-time

Louisville

9/1/21
Apply here

 

Not ready to go back to the office? With us, you never have to. We are all virtual and have been since 2016. We serve a select group of clients with interesting tax situations with our current team of four. We are low volume, high tech, yet high touch. We've been doing "work from home" for a while and know what it takes to do that well. If you are interested in seasonal work that can lead to full time year round work (if you want), contact us. We'll see if we can help each other.

 

Audit Staff Accountant

Full-time

Louisville

9/1/21
Apply here

 

 

Performs staff level auditing procedures at client offices, our office and/or remotely. Effectively communicates to other engagement team members the status of assigned procedures and actively seeks to learn auditing and sampling techniques and produce understandable audit documentation. Must be able to communicate professionally with appropriate client personnel and actively seeks to learn the client's business.

Perform audit procedures, communicate job status to managers, update work papers on time, and present themselves professionally.

Desired Skills & Expertise: - Must have working knowledge of auditing and accounting principles and procedures. - Experience in non-profit, governmental, and employee benefit plans a plus. - Demonstrates the ability to teach staff accountants and run smaller audits independently. - 2-4 years recent public accounting experience. - CPA Certification preferred or completion of the 150 hour requirement to sit for the CPA exam and currently making progress towards completion of the exam.

Audit Supervisor

Full-time

Louisville

9/1/21
Apply here

 

Supervisors are responsible for organizing and managing client assignments and projects, including the completion of assignment tasks and project components, as well as advising and directing team members in meeting client and self-development expectations. They direct and review the work of staff accountants, and are capable of making decisions on most accounting, tax, and auditing matters. When unusual situations arise, they present the pertinent information to the engagement manager or partner and follow their advice. They use their advanced technical and client knowledge to recognize areas to add value to the client, to find solutions for client problems, and to suggest areas for the firm to cross-serve client needs. They take on leadership roles to support the firm's initiatives such as strategic team leaders, and presenters at educational events.

Job Requirements

2-3 years recent public accounting experience supervising audit and assurance engagements. Active CPA License

Tax Manager

Full-time

Flatwoods

8/26/21
Apply here

We are searching for a tax department manager who is a CPA or an EA with at least 10 years of experience preparing individual and corporate tax returns plus dealing with the IRS. There is a certain path to firm partner/owner level here. We are a family owned firm with 12 people working and growing every day. Over 2000 tax returns filed annually. We are looking for a person that loves small business clients and enjoys a great team/family firm feel.

 

Senior Accountant

Full-time

Louisville

8/26/21
Apply here

We look for individuals who are excited about public accounting, who are looking for opportunities to grow professionally, and enjoy working in a team environment with reasonable work hours. Team members will be introduced to a variety of challenging assignments in our audit and tax areas.


Learn more at https://www.jnmcpa.com/careers

 

Staff Accountant

 

Full-time

Louisville

8/26/21
Apply here

We look for aspiring accountants who are excited about public accounting, who are looking for opportunities to grow professionally, and enjoy working in a team environment with reasonable work hours.

Learn more at https://www.jnmcpa.com/careers

 

 

Finance Director

Full-time

Danville, KY

8/25/21
Apply here

 

Under the direct supervision of the City Manager, will have overall responsibility for the accounting and financial control for the City's Finance Department. The position will oversee the financial operations of the City to ensure the departmental reports and other financial assets are in great standing. Provides advice for sound investment decisions. Develops strategies to assess, manage, and minimize any potential financial risk. Provides financial reports and analysis on the financial performance of the City and special projects. Builds reports for department heads to review and provide feedback. Provides research for Department Heads and reviews statistics to make forecasts and projections that help them build more comprehensive budgets. Must be self-motivated to work independently along with the ability to work in a team-oriented environment. Strong written and verbal communication skills are essential to the duties of the position.

Audit Senior or Audit Manager

Full-time

Louisville

500 North Hurstbourne Parkway Ste. 150
Louisville, KY 40222

8/24/21
Apply here

Monroe Shine is a full-service public accounting firm looking for a full time Audit Senior or Audit Manager with at least 3 years of recent work experience as an auditor at a public accounting firm. The Audit Senior or Audit Manager must exhibit a high standard of professional ethics and accept responsibility as the in-charge accountant for assigned audit areas on privately owned business, not-for-profit, and employee benefit plan audits.

Qualifications include:

- Strong organizational skills and attention to detail required

- Project management, analytical, oral, and written skills required

- Ability to complete assignments within time constraints provided

- Four year accounting degree and CPA certification required

- Specific experience in not-for-profit, construction, manufacturing, and/or employee benefit plan audits would be helpful

- Experience with ProSystems Engagement and Thomson Reuters Checkpoint helpful

For more information, please check out our posting at https://www.monroeshine.com/auditsenior.php

 

 

Staff Accountant

Full-time
Central Kentucky/Work from home
8/6/2021
Apply here

AMR Management Services has a great career opportunity available for a Staff Accountant to join our team of professionals.

The Staff Accountant may be assigned to 5-10 non-profit clients and will serve as a consultative member of those teams; committed to delivering exceptional service to our clients and their members. The Staff Accountant will be responsible for the timely and accurate recording, reporting and analysis of monthly financial accounting activities for assigned clients. The ideal candidate will exhibit AMR's core values and be able to successfully accomplish the major areas of responsibility.

For more information on this opportunity visit: https://recruiting.paylocity.com/recruiting/jobs/Details/674523/Association-Management-Resources/Staff-Accountant

 

Controller

Full-time
Calvert City, Kentucky
8/6/2021
Apply here

Controller: 4 year degree in accounting (or closely related), management experience (will manage a small team directly), minimum 8 years of experience in business accounting. Public accounting preferred. CPA preferred. Must know Office, and be strong in Excel. Only candidates in for profit organizations will be considered. Relocation on a case by case basis. Excellent opportunity with an expanding company.

 

CPA

Full-time
Louisville, Kentucky
8/6/2021
Apply here
R.L. Moore, PSC a CPA firm located Louisville, KY is seeking candidates to join our frim. Responsibilities include preparing individual & corporate returns, interacting with clients & helping them with financial decisions. We have both full and part time positions open. Qualified candidates should have one to three years' experience in public accounting preparing tax returns. Knowledge with using CCH ProSystem tax software, Excel and QuickBooks is preferred. We offer competitive compensation, a great benefits package including paid holidays, vacation, and sick time as well as a Simple IRA employer match. If you are interested in discussing a job opportunity with our firm, please send your resume to bhopperrlmcpa@bellsouth.net.

 

Tax Principal - Owner Track

Full-time
Louisville, Kentucky
8/6/2021
Apply here

Are you a tax professional who enjoys what you do and are interested in becoming an owner in a tax preparation firm? This role is designed to be an ownership accelerator. Initially, you will be provided a book of business, base compensation, back-office support, coaching/mentoring, and autonomy to drive results based on our combined vision and goals.

This position requires a CPA or Enrolled Agent license and a minimum of five years' experience in tax preparation. Ideal candidates include tax professionals who:
• Are concerned about marketing and prospecting
• Have stagnated below ownership level at their current firm
• Are "too early in their career" to be owners
• Are being held back because they don't fit traditional owner stereotypes
• Left a public accounting firm for an industry position but want to return

This role is results-oriented, not time-oriented, with ample opportunity for long-term success.

www.kbhcpa.com

 

Experienced Tax Professional

Full-time
Louisville, Kentucky
8/6/2021
Apply here

The experienced tax professional is a critical position and will be involved in all aspects of client service including hands-on client work, routine communications with clients, and reviewing staff work.

Your responsibilities will include preparation of corporate, partnership, fiduciary, and individual income tax returns, including the review of income tax returns prepared by other staff members. You will also be asked to assist with non-traditional tax assignments such as sales and use tax returns, payroll tax returns, and client accounting. Developing and guiding other members of the team may also be a long-term function of this position.

A CPA license (or willingness to acquire) is preferred as well as a minimum of three years of experience in tax preparation with strong technical skills. The ideal candidate will also be detail-oriented with proven organizational, analytical, and problem-solving skills.

Our office is results-oriented, not time-oriented, with ample opportunity for growth.

 

CPA

Full-time
Taylorsville, Kentucky
8/5/2021
Apply here

Experienced Tax Senior to help manage multiple operations of tax practice area and to deliver quality tax services. That will develop and maintain firm's reputation. Tax preparation and planning represent clients with Federal, State and county or other Audit review and computation. CPA certification preferred with current experience in public accounting and auditing. Candidate must have full understanding of professional standards, regulations, strategies and operating standards. Must have working knowledge Governmental Audits, Tax preparation and Accounting. Knowledge in Microsoft Office applications, Excel, Quick Books and Thomson Reuters Ultra Tax.

Required Qualifications:

Bachelor's degree in Accounting
CPA or Enrolled and in process of obtaining
CPE credit hours or in process of obtaining
5 Years experience in Audit and Tax
Experience with (Individual, Trust, Fiduciary and Estate)
Pay Roll, Monthly Accounting, Quarterly preparation, KY withholding, Unemployment, Sales Tax Return and Federal tax Deposit.
Knowledge of County Occupational, Multi State and Federal Standards


Senior Accountant

Full-time
Louisville, Kentucky
8/2/2021
Apply here

Hardscuffle, Inc., a privately held company, is recruiting a Senior Accountant to support it and its subsidiaries, including American Life and Accident Insurance Company of Kentucky, Hornbeam Insurance Company, and Ironwood Warranty, LLC. 

The Senior Accountant position is a key contributor across a wide range of accounting areas including investments, revenue and expenses, and treasury. This position also assists in preparing quarterly and annual statements for regulatory filings.

The position requires a Bachelor's degree in accounting or finance or equivalent training and experience, a minimum of 3 years of experience in accounting, and experience with Excel. 

https://hornbeaminsurance.com/




Staff Auditor

Full-time
Louisville, Kentucky
8/2/2021
Apply here

Tichenor & Associates LLP is seeking staff auditors, full time or contract positions. We offer an excellent compensation and benefit package. Tichenor has a 30+ year history and has offices in Louisville, KY and DC EOE.

Willing to travel up to 50% of the time. Bachelor's degree in Accounting; excellent writing and communication skills, knowledge of Microsoft Office Word and Excel. A team player. Currently sitting for the CPA exam or passed each section of the exam. Due to firm Federal contract requirements candidate must be a US Citizen.

Performs specific audit procedures under the direction of the senior auditor. Performs testing and other auditing review procedures. Additionally, the staff auditor prepares working papers that adequately document procedures performed and substantiated conclusion reached. The staff auditor also assists in the preparation of audit reports. 

Opportunity to work with a wide variety of clients and travel throughout the continental United States.

Apply here under career opportunities.
SALARY INFO
Student EMPLOYER GUIDE
The future CPA's guide to passing the CPA Exam and finding their dream job!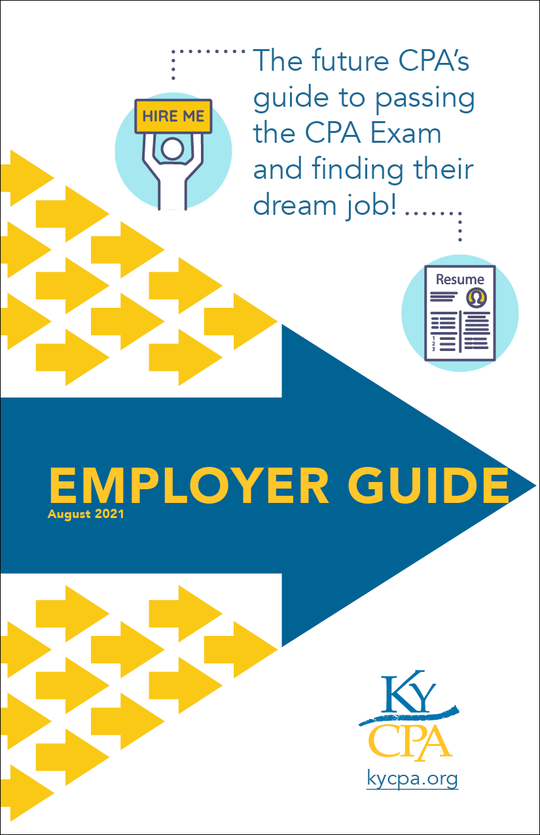 Do you want to become a CPA? The Kentucky Society of CPAs Employer Guide is a valuable resource as you begin your journey. It profiles organizations in Kentucky that are interested in hearing from bright, motivated individuals who want to start their professional career with a forward-looking employer. It also provides you with everything you need to know about applying for and taking the CPA Exam so you can become a CPA and get noticed by employers.