Open accounting-related positions
Click here to post an open accounting-related position or internship in Kentucky or the surrounding area. Your open position will appear on this page for one month and a link to this page will be shared in our monthly e-newsletter to KyCPA members. Postings are free for KyCPA members and $50 for each posting for non-members.
Controller/Firm Administrator

Full-time

Lexington

11/10/22
Apply here

Be a part of executive management at a growing firm and help shape the organization's culture and success. A well-established mid-sized professional services firm is searching for an accounting leader to join their Lexington, KY team. The right person for this opportunity will have a dynamic approach with leading and encouraging a positive culture within the organization. Responsibilities include strategic planning, managing accounting/finance, human resources and the daily operations of the office. Have a seat at the table with this management team building on the success of the business. Competitive compensation ($100k - $120k based on experience) and employee benefits. Apply and view full job posting at www.talisgroup.com

 

Fiduciary Tax & Charitable Gift Specialist

Full-time

Remote

11/10/22
Apply here

New Covenant Trust Company

New Covenant Trust Company is looking for a Fiduciary Tax and Charitable Gift Specialist to join our dynamic team! New Covenant Trust Company is a full-service financial planning, investment management and trust services firm. Using a consultative and collaborative approach, we help our clients customize investment planning and asset management solutions based on their specific needs and goals. Thanks to a unique blend of our expertise and as a wholly owned subsidiary of the Presbyterian Church (U.S.A.) Foundation, we have everything it takes to meet all our client's investment, planning and fundraising needs. In all our work, we remain focused on the Reformed values that have guided our stewardship and investment for more than 200 years.

If you are interested in joining our mission, please take the following steps:

• Read the job description thoroughly.
• Email your resume.
• We look forward to reviewing your resume!

https://newcovenanttrust.com

 

 

HR Director

Full-time

Louisville

11/10/22
Apply here

 

We are growing! Come be part of the exciting things happening at Baldwin CPAs!

We seeking Associate and Senior Associate Accountants, and Auditors for our Richmond, Lexington, Louisville, Flemingsburg and Maysville Kentucky offices.

Qualified candidates must have a minimum of a baccalaureate degree from an accredited four-year college/university with a major or concentration in accounting. Candidates must have excellent computer skills and appreciate cutting edge technology. The right candidates will embrace a team culture and have a desire to serve others including clients, co-workers, and community.

We offer a competitive compensation, a great benefit package and fantastic work-life integration!

We are an equal opportunity employer. All qualified applicants will receive consideration for employment without regard to race, color, religion, sex, sexual orientation, gender identity, national origin, disability or veteran status.


Benefits:

401(k)
Dental insurance
Employee assistance program
Flexible schedule
Health insurance
Life insurance
PTO
Professional development assistance
Vision insurance

 

 

Senior Staff Accountant

Full-time

Louisville

10/28/22
Apply here

The Senior Accountant prepares individual and business tax returns and responds to tax notices, taking personal responsibility for these jobs, including directing and reviewing the work of Staff Accountants and serving as a primary point of client contact.

KNOWLEDGE, SKILLS, AND ABILITIES
•Bachelor's degree in Accounting or Finance.
•Has CPA certification or has made significant progress toward passing the exam.
•Two to three years of experience in public accounting.
•Proficiency in Microsoft Office including, but not limited to, Word, PowerPoint, Excel, and Outlook.
•Experience with CCH ProSystem fx Engagement and CCH Axcess Suite is a plus.

 

 

Accountant

Full-time

Louisville

10/27/22
Apply here

KyCPA seeks a collaborative, self-motivated, seasoned and detail-oriented individual to serve as an Accountant.

Reporting to the CEO, the accountant will execute or facilitate certain aspects of KyCPA's financial needs, including but not limited to posting of all general ledger transactions, cash management, payroll and personnel management (including management of employee benefits), account reconciliations and various reporting needs. The role will also work with other staff members on accounts payable and vendor payments.

Qualifications and experience needed include:
At least 2 years prior work experience and an Associates Degree in Accounting is preferred.

Proficiency in QuickBooks or QuickBooks Online and Microsoft Excel.

Demonstrated ability to execute job duties independently and work collaboratively with staff and constituents.

A mature, self-motivated individual who can work autonomously or collaboratively as needed and adds value to the team's work products.
SALARY INFO
Click here for the 2022 Robert Half Salary Guide.
Student EMPLOYER GUIDE
The future CPA's guide to passing the CPA Exam and finding their dream job!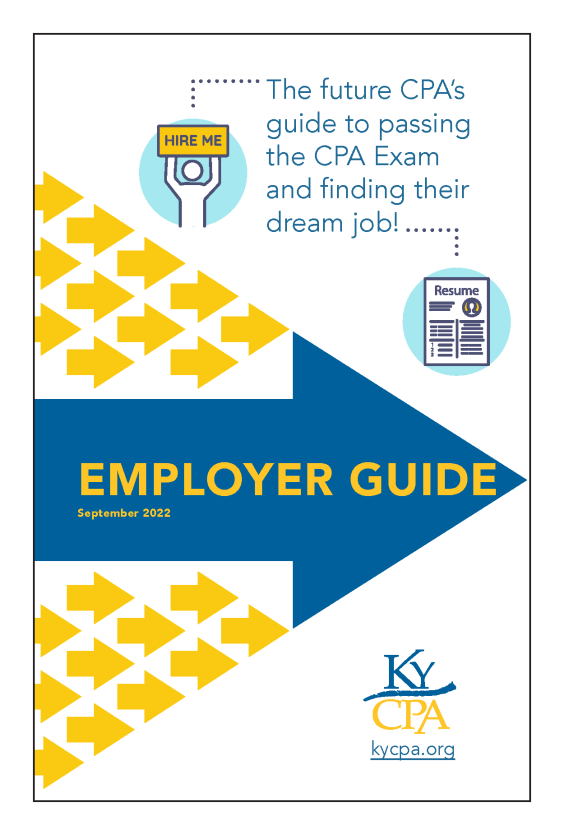 Do you want to become a CPA? The Kentucky Society of CPAs Employer Guide is a valuable resource as you begin your journey. It profiles organizations in Kentucky that are interested in hearing from bright, motivated individuals who want to start their professional career with a forward-looking employer. It also provides you with everything you need to know about applying for and taking the CPA Exam so you can become a CPA and get noticed by employers.