Open accounting-related positions
Click here to post an open accounting-related position or internship in Kentucky or the surrounding area. Your open position will appear on this page for one month and a link to this page will be shared in our monthly e-newsletter to KyCPA members. Postings are free for KyCPA members and $50 for each posting for non-members.
Internal Auditor

Full-time

Louisville

3/2/23
Apply here

While meeting the service standards of the credit union, assist with the performance of audits as directed and complete all work papers. Assist with the completion of drafts of reports for manager to review while maintaining the confidential nature of all work papers and information obtained during any audit.

This process will include completing all audit assignments effectively and within the scheduled time frame; interviewing credit union staff as needed to gather relevant information to complete assignments; communicating information, suggestions, and/or problems regarding job status and critical findings throughout assignments to the manager; and assisting in the efficient operation of the audit department as directed by the manager, NCUA, and external auditors to expeditiously complete their assignments.

Assist in additional tasks which may include special projects, assisting external auditors, conducting compliance research, etc. as needed or assigned.


Perform other job related duties as assigned.

 

 

Manager - Division of Accounting Services

Full-time

Frankfort

2/20/23
Apply here

The Department of Financial Services, Division of Accounting Services, has an immediate need to fill an Accounting Manager position in Frankfort, KY.

The Accounting Manager supports the Executive Officer of the Department of Financial Services, implements and monitors controls, policies and procedures, leads administrative activities, prepares financial analysis and manages division staff.

For additional details and to apply for the position, follow the link below:

https://kypersonnelcabinet.csod.com/ui/internal-career-site/app/job-details/45822

Controller

Full-time

Louisville

2/1/23
Apply here

SVDP is seeking its next Controller. This is a director level position reporting to the newly appointed Chief Financial Officer, a forward thinking and inclusive leader. This is a critical role in the organization supporting the CFO and other members of the senior leadership group, the Board of Directors and various Board committees. This position will work collaboratively with the Director of Development and the Chief Operating Officer. The Controller is supported by and manages a three-person team, including an accounting assistant, grants accounting specialist and an accounts payable specialist. The Controller is responsible for managing the financial operations of the agency as well as all historical record keeping. As the position grows, the Controller will have the opportunity to provide key inputs regarding future strategic financial guidance, including financial planning and budgeting for SVDP's $8M operating budget.

Controller - Client Accounting Services

Full-time

Louisville

2/1/23
Apply here
A Louisville, KY public accounting firm is looking for an experienced Controller or Accounting Manager to join their client accounting services division as the leader to a great team. Important experience: managing daily accounting, operations and positively coaching a team. Come work with clients in a variety of industries (manufacturing, emerging markets (i.e., breweries, hemp), real estate, professional services, nonprofits). Market competitive compensation, bonuses, great employee benefits and hybrid work schedule available. Excellent leadership role for an experienced accountant who enjoys variety in work and inspiring a team to succeed. Apply today to explore this opportunity! See full job description at www.talisgroup.com

Construction Accountant

Full-time

Louisville

2/1/23
Apply here
A very successful locally owned construction company with high profile regional projects is looking for a strong Construction Accountant to support the Accounting Manager on major projects. This Accountant will perform financial analysis, financial reporting, general ledger entries, bank reconciliations, monthly close, payroll taxes and AR/AP Ledger. This is a new addition to the accounting team in the Louisville, KY headquarters due to company expansion. A limitless opportunity for an accounting professional who wants to advance their career and never be bored in this exciting industry! Market competitive compensation based on experience ($70k - $80k) and full employee benefit package. Apply today to showcase your accounting talent in a thriving industry.

Controller

Full-time

Jeffersonville, IN

2/1/23
Apply here
An established premier manufacturer of consumer equipment is searching for a hands-on Controller to lead the accounting functions and staff at their Southern Indiana facility (metro Louisville, KY). This is an excellent opportunity for an action-oriented Accountant with 5+ years' experience in the manufacturing industry including cost accounting. Position manages the accounting/finance department and reports to the Director of Finance. Responsibilities include policies, procedures, budget, and insurance. Join the talented and growing team at this organization and be a part of their continuous improvement culture. Competitive salary ($100k - $115k), hybrid work schedule (2 days per week working from home) and comprehensive benefits package.
SALARY INFO
Click here for the 2023 Robert Half Salary Guide.
Student EMPLOYER GUIDE
The future CPA's guide to passing the CPA Exam and finding their dream job!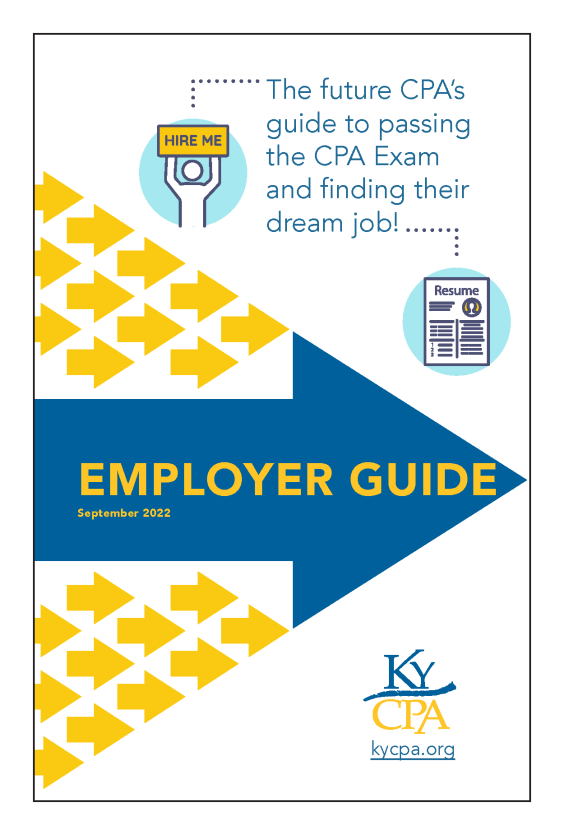 Do you want to become a CPA? The Kentucky Society of CPAs Employer Guide is a valuable resource as you begin your journey. It profiles organizations in Kentucky that are interested in hearing from bright, motivated individuals who want to start their professional career with a forward-looking employer. It also provides you with everything you need to know about applying for and taking the CPA Exam so you can become a CPA and get noticed by employers.