Open accounting-related positions
Click here to post an open accounting-related position or internship in Kentucky or the surrounding area. Your open position will appear on this page for one month and a link to this page will be shared in our monthly e-newsletter to KyCPA members. Postings are free for KyCPA members and $50 for each posting for non-members.
Senior Internal Auditor, Compliance/Audit, Days

Full-time

Louisville

9/18/23
Apply here

Responsibilities

The primary function of Senior Auditor will be to perform independent audits/reviews with minimal supervision, and may oversee and direct the staff auditors in their audit assignments. The objective of the position is to perform audits in accordance with the approved Corporate Compliance/Audit Plan and generally accepted professional auditing standards and to prepare oral and written presentations to management discussing findings, recommending corrective action, and suggesting improvements. This position will oversee multiple projects and be responsible for timelines outlined by external auditors and department supervisor.

Qualifications
Required:
Five years healthcare auditing or public accounting
Bachelor Degree
Desired:
Master Degree Business Administration
Certified Public Accountant (KY)

Financial Compliance Manager

Full-Time

Lexington

9/14/23
Apply here

Company: Link-Belt Cranes

Provide management sufficient documentation to assess the design and operating effectiveness of internal control over financial reporting as required by JSOX.
Maintain updated documentation of business processes and related risks and controls as required by JSOX.
Develop test plans and test key controls, identifying, communicating and assisting business process owners in remediation of deficiencies.
Function as a liaison between the outside consultants and LBC IT Department in the documentation, evaluation, testing and remediation of IT controls.
Maintain updated documentation of business processes/related risks and controls including the development of test plans and actual testing and remediation of processes outside the scope of JSOX
Develop audit plans and planning documentation specific to the engagement needs, while performing the audits with integrity, objectivity, confidentiality and competency.
Provide effective JSOX compliance and audit reporting to management with the goal of minimizing business risks, improving internal controls and business processes.

Controller

Full-Time

Louisville

9/11/23
Apply here

Darryl "The Hammer" at Isaacs & Isaacs is hiring! Our law firm is expanding and needs the help of a highly motivated and organized Controller.
A summary of the responsibilities include:

This is a Hybrid role that will oversee the firm's financial activities, prepare financial statements and reports, manage the day-to-day accounting operations and report to the owner and Executive Board.
Develop and implement financial policies and procedures to enhance internal controls and safeguard firm assets.
Assist in strategic planning initiatives and financial modeling for potential business opportunities.
Ensure compliance with all applicable financial regulations, laws, and accounting principles

Qualifications:


Bachelor's degree in Accounting, Finance, or a related field. CPA or CMA certification preferred.
Minimum of 5 years of experience in public accounting or as a Controller or similar financial leadership role
In-depth knowledge of GAAP, accounting principles and financial reporting

For more information, please email us at hr@wewin.com or visit wewin.com/job-openings/

Senior Accountant

Full time

Louisville

9/11/23
Apply here

Tri-Arrows Aluminum, Inc.

Reporting to the Controller at our beautiful corporate campus in Louisville (KY), you will focus on US GAAP financial statement preparation and consolidated reporting to global ownership and plays an integral role in the month-end financial close process. Emphasis on continuous improvement, attention to detail, and effective communication are keys to success in this role.

Prepare month-end financial statements including Balance Sheet, Income Statement and Statement of Cash Flow per US GAAP.
Prepare quarterly consolidated reporting to owners.
Support FP&A team by recording journal entries for treasury activity.
Support FP&A team by recording journal entries for hedging activity.
Prepare monthly journal entries, as assigned.
Prepare Balance Sheet reconciliations, as assigned.
Prepare ad hoc reporting to owners.
Provide audit support for quarterly and annual reviews.
Prepare footnotes for annual report, as assigned.
Occasional work required outside standard business hours, particularly at month-end and year-end.

Audit Senior

Full time

Owensboro

8/31/23
Apply here

Alexander & Company CPA's PSC is one of the oldest public accounting firms in Kentucky and is celebrating its 100 year anniversary. We are growing and are currently seeking qualified candidates for a Senior Auditor position in our Owensboro, Kentucky office.

Qualifications

• A genuine interest in helping clients and coworkers.
• A desire to solve problems.
• A drive to continually learn.
• CPA Certification or eligible and actively pursuing certification.
• 3-5 years of relevant audit experience in a similar public accounting firm position.
• Senior Accountants must have demonstrated ability to oversee and manage engagements, prioritize engagements and supervise/motivate staff.
• Excellent written and verbal communication skills.
• Ability to travel to surrounding counties; work at other offices and driving to and from client locations is required. No over-night travel.

Pay and Benefits

Competitive base compensation ($65k - $80k) that is commensurate with the position and candidate's experience. We also offer an attractive benefits package.

 

Accountant/Tax Preparer

Full time

Danville

8/23/23
Apply here

Looking for experienced accountant and tax preparer. Must have at least 2 years experience in preparation of individual and business tax returns. Also, experience in preparation of compilation and reviews. Familiarity of Ultra Tax and related products a plus. Compensation commensurate with experience. Please send resumes to LShearer@rscpaky.com.

 

 

VP of Corporate Services

Full time

Owenton

8/14/2023
Apply here
The VP of Corporate Services is responsible for directing all safety, accounting and human resource functions of the organization in accordance with the policies and procedures of Owen Electric Cooperative, Inc., the ethical and social consciences of business and society, and the laws, regulations and administrative rulings of governmental organizations and other regulatory and advisory authorities and organizations. This position is also responsible for the strategic planning of safety, accounting and human resources to promote a culture of safety, financial integrity and workforce excellence.

CPA or Experienced Tax Return Preparer

Full time

Bardstown

8/14/2023
Apply here
Smith & Company CPA's located in downtown Bardstown is looking for a CPA or Experienced Tax Return Preparer. Minimum 2 years' experience with Individual, Corporate and Partnership tax returns preparation. Position is full time but flexible part-time and/or seasonal is also available. Health insurance, life Insurance, and pension available for full time position. Competitive salary based on experience. Please forward your resume to info@smithandcocpa.com.

Accounting Manager

Full time

Evansville, Indiana

8/14/2023
Apply here

A mid-sized regional public accounting firm with an excellent reputation is seeking an Accounting Manager to join their Evansville, IN, Client Accounting Services (CAS) team. This position has schedule flexibility (reduced summer hours), competitive compensation ($75k - $100k based on experience), 5% bonus potential, excellent benefits, and the opportunity to work in an incredible culture and work environment. This client accounting consultant role will provide high-level on-site accounting services (such as financial statements, month end close, etc.) for a range of local client companies and industries. This client facing position works primarily on-site at client locations with an additional mix of home and office work. Public and private industry accounting experience is desired. Payroll processing and payroll tax experience a plus. You will thrive in this role if you are friendly, like variety in your work and a fast-paced environment. Kickstart your career—apply today using the link below!

Audit Senior Associate

Full time

Louisville

8/14/2023
Apply here

A mid-sized regional public accounting firm with an excellent reputation is seeking an experienced Audit Accountant for their Louisville, KY team and office. This position has hybrid schedule flexibility and half Friday workdays during the summer months. Competitive compensation ($70k - $80k based on experience), bonus potential, excellent benefits, and the opportunity to work in an incredible culture and work environment. Position provides comprehensive audit accounting to a range of local clients (little to no overnight travel needed). Apply today to learn more about this excellent opportunity! Use link below to view the full job posting and directly apply.
SALARY INFO
Click here for the 2023 Robert Half Salary Guide.
Student EMPLOYER GUIDE
The future CPA's guide to passing the CPA Exam and finding their dream job!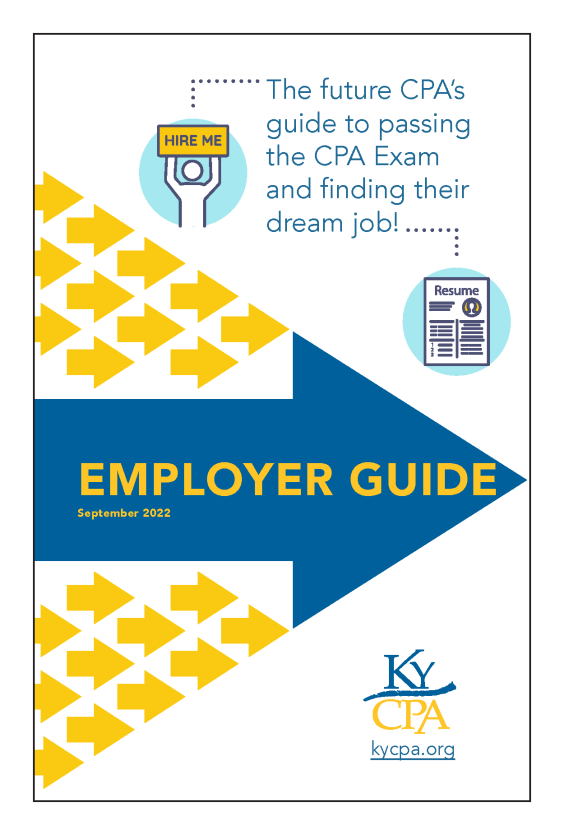 Do you want to become a CPA? The Kentucky Society of CPAs Employer Guide is a valuable resource as you begin your journey. It profiles organizations in Kentucky that are interested in hearing from bright, motivated individuals who want to start their professional career with a forward-looking employer. It also provides you with everything you need to know about applying for and taking the CPA Exam so you can become a CPA and get noticed by employers.