December 17, 2018
By Becky Phillips, CPA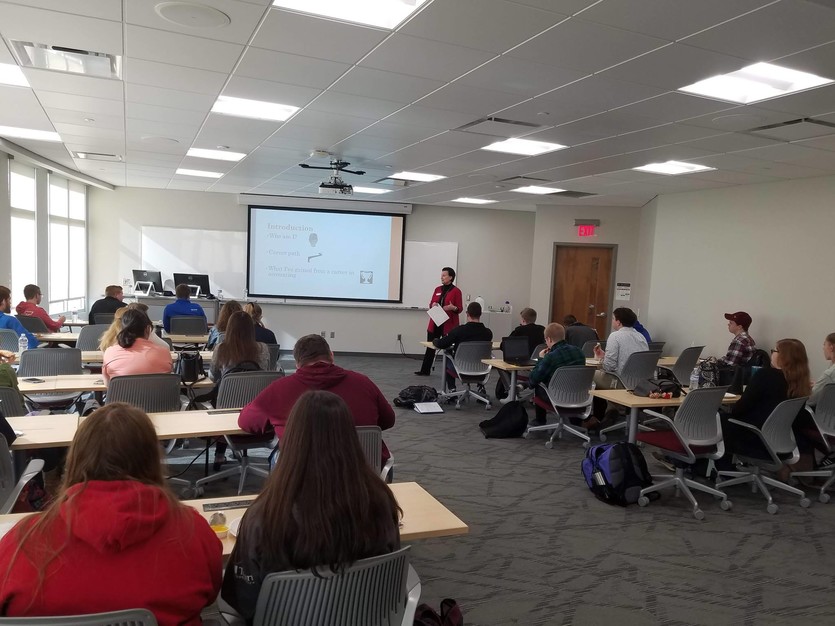 Becky Phillips visited Bellarmine in November 2018 to talk to students about accounting careers.
How can you help usher in new CPAs into the profession and impress upon your fellow CPAs the importance of keeping the CPA license once they have earned it?
Share
A great way to grow the pipeline is to share with others about the CPA profession. Sharing personal successes that you attribute to your career as a CPA may inspire someone to become a CPA. It also may impress upon others the importance of keeping their CPA license.
1. Junior Achievement
There are many opportunities to share by connecting with Junior Achievement. The Society participates in both Kentucky locations to reach elementary, middle and high school students across Kentucky to share the CPA profession with them. Junior Achievement (JA) impacted over 73,000 Kentucky area students in more than 2,000 classrooms during 2017-2018. JA needs more than 3,500 volunteers yearly to share their life experience with students in Kentucky. There are opportunities that will take you less than three hours. If you are unable to support JA with your time, then you may do so with a donation. Learn more about JA volunteer and donation opportunities at www.kycpa.org/mykycpa/JA.
2. KyCPA Educational Foundation
Share with college accounting students that there are scholarships available and to apply before Feb. 18 at 3 p.m. EST at www.kycpa.org/edfoundation/scholarship. Please consider a year-end donation to the KyCPA Educational Foundation and go to www.kycpa.org/edfoundation.
3. KyCPA College Leadership Institute (CLI)
KyCPA selects approximately 40 college accounting students to attend CLI. There are opportunities for you to interact with these students during lunch, dinner and/or the Meet the Firms reception. Please contact Samantha Soutar at ssoutar@kycpa.org if you would like to get involved as a speaker, sponsor, or volunteer. 
4. CPA Dish
CPA Dish is a monthly Q&A within the KyCPA student e-newsletter where a current KyCPA member provides advice to more than 800 current student members. This is a really easy way to help mentor the next generation of CPAs into the profession. If you are interested in this endeavor, please email Samantha Soutar at ssoutar@kycpa.org.
5. CPA Exam
Reach out to those on your team to help guide them through the CPA Exam. Encourage them to take the exam and create an environment that helps them succeed. Continually check in to see if they need help or share the struggles that you may have had studying for the exam. Let them know not to be discouraged if they need to take a section more than once. Share in the celebration of their accomplishments along the way. KyCPA provides several avenues to help make the process easier with CPA Exam Workshops, discounts on CPA Exam review courses, testing window dates, and instructions to sit for the CPA Exam. More information can be found at www.kycpa.org/futurecpas/collegestudentresources. When the time comes, and they meet all requirements to become a CPA, reserve a table at a KyCPA Awards Banquet so we can all share this special moment with them.
6. Time
Encourage team members to take time to share their knowledge and ideas. Create a culture that allows time internally and externally for collaboration and growth in leadership skills. Contact the Society at 502-266-5272 or info@kycpa.org to learn about opportunities to volunteer or let us know you want to be considered to:
write articles for e-newsletters or the Kentucky CPA Journal
be a member of the Board of Directors
speak at a conference
be involved with advocacy efforts
Keep it growing

Building the pipeline with new CPAs is not enough if those that have already obtained their CPA license do not keep their licenses.
How can you help prevent this from happening? A few ideas:

1. Make it easy to be connected to the CPA profession. Allowing time to be involved in the Society is one way of staying connected to the profession. Another way is making sure that your company/firm is a 100% Champion of KyCPA. This means that all eligible CPA employees are Society members. Provide KyCPA membership as an employee benefit and then encourage them to take advantage of the resources available with membership.

2. Continuing Professional Education is a huge reason why people decide to walk away from their CPA license. Having time and money to take the required hours of education can be the ultimate straw that breaks the camel's back. KyCPA strives to help with this by providing 12 free online CPE hours to KyCPA members every year. Click here to view free courses.

3. Financial and other rewards are always an incentive. Initially, make sure there is praise for becoming a CPA. Consider keeping that energy going by recognizing those who have been CPAs for 5, 10, 15, 20 plus years.

4. Hire or promote those that retain their CPA license. Make it really understood how important it is for advancement within the company/firm.

5. Make sure that everyone on the team with a Kentucky CPA license renews it on time with the Kentucky State Board of Accountancy. If someone is audited by the State Board, KyCPA strives to make it easy to share CPE taken with a CPE tracker tool. The CPE tracker automatically includes all CPE hours obtained with KyCPA, but you may also add in the hours taken with other providers. (If you have an administrator take care of tracking CPE, KyCPA can provide access to them to update your CPE records.)


These ideas are just the tip of the iceberg, KyCPA welcomes sharing of additional ideas and continued conversation to grow the CPA profession. Reach out by contacting the Society at 502-266-5272 or email info@kycpa.org.

About the author: Becky Phillips, CPA is a partner at MCM CPAs & Advisors LLP in Louisville, where she is director of the firm's not-for-profit service team. She can be reached at Becky.Phillips@mcmcpa.com.