KyCPA member profile:
Heather Glass
Issue 1
Feb. 4, 2019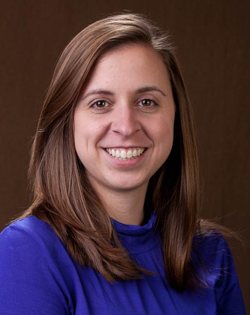 Say hello to Heather Glass, CPA, assistant director of general accounting at the WKU Foundation. She received her B.S. in accounting at WKU, Master of Science in accountancy at the College of Charleston. Glass lives in Bowling Green with her husband Aaron, and children Ella, 4, and Noah, 3. In her free time, Glass volunteers for the Rich Pond Baptist Church children ministries.
Q: What inspired you to become a CPA?
My dad was a CPA and always talked about the benefits of being a CPA for job options, job security and a good field to have a career. In high school, I took my first accounting class and knew this is what I wanted to pursue when I went to college.
Q: What's the best aspect of your job?
Working with faculty and staff across campus. The WKU Foundation supports professorships, programs, department needs and students.  Every day I get to work with faculty and staff and help them access the funds they need to support their programs.
Q: What do you like to do for fun?
Hanging out with family, working out, spending time outside. I have two young children who are active and have big imaginations. It is fun coming home after a long day and being able to run around with them.  At work, one of the best aspects about my job is working on a campus and having access to their facilities. A group of us go to the gym on our lunch hour and participate in workout classes with other faculty, staff and students.
Q: Being a CPA, can you tell us why you work for a nonprofit (WKU)? Do you find it more challenging? More rewarding? 
I work for a nonprofit because it serves a purpose. In the WKU Foundation's case, that is Western Kentucky University.  I started out in the corporate world and within a few months knew I wanted to move to the nonprofit area.  With a nonprofit it is  more about helping a cause rather than worrying about the bottom line. It is rewarding when I get to work with areas on campus and help them fund their needs.
Q: Any advice to students working towards becoming a CPA or new CPAs? 
My first advice would be to take the CPA exam right out of college whether or not you plan to go into public accounting.  It is good to invest in yourself. Many students think they do not need to take the exam if going into the private sector but having CPA credentials will help with more job opportunities and growth in their career.
Q: Being a CPA, what opportunities did this career path open for you?
When I came to work at the WKU Foundation, I was not a CPA.  At my corporate job it was not a requirement and they did not encourage me to take it. My supervisor at the WKU Foundation encouraged me to pursue it so I could have more opportunities here at the Foundation. It has definitely paid off, since I started here at the WKU Foundation as a Staff Accountant and am now an Assistant Director.