Cover
In like a lamb, out like a lion
Issue 2
April 27, 2020
By Darlene Zibart, CPA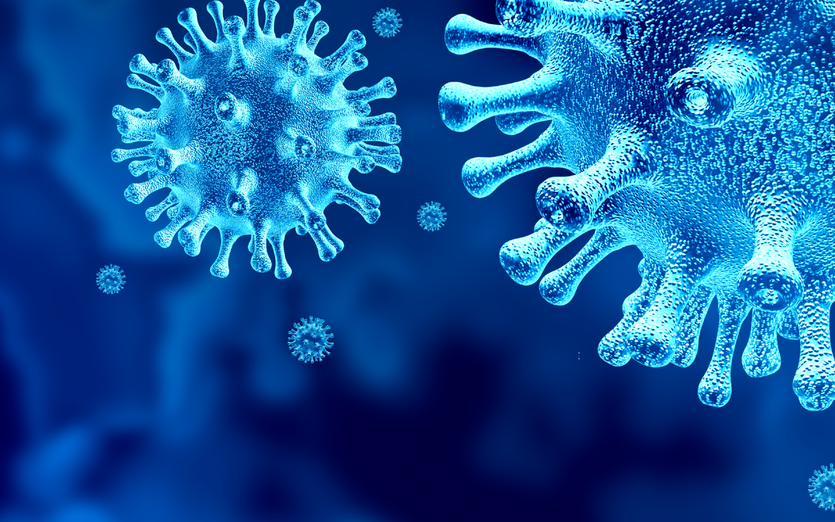 Most of us have heard the saying in like a lion, out like a lamb. Usually, this refers to the drastic change in weather during the month of March. For Kentucky, there was a storm on the horizon but it would come in like a lamb and out like a lion.
At the beginning of March, we started to hear more about the coronavirus. We continued life as normal and went to work, to school and to the grocery store. By mid-March, you could start to feel something different in the air. The Governor recommended schools close; companies transitioned staff to work remotely, then non-essential businesses closed.
The Society's staff moved to a full-time remote office as of March 18. Every day we are hard at work, focused on one goal, empowering our members.
Legislative efforts
On March 17, the State Capitol closed to non-essential personnel but this did not stop our advocacy efforts on behalf of our members. We continued our advocacy outreach work with the Governor's office, the General Assembly, and the Department of Revenue. We worked with the Governor's office to have accounting services declared as essential and engaged with the General Assembly to get SB150 passed. Kentucky statute mandates interest is charged on taxes paid after April 15. SB150 contained language to waive the interest charge. It also includes language that extends the deadlines for the first quarter estimated taxes and the LLET taxes to July 15. This should give our members some breathing room to deal with the overwhelming amount of changes and information.
Alongside the AICPA, we advocated on behalf of our members for the tax filing relief and to get the CARES Act passed. We will continue to work at the federal level to get additional guidance and clarifications. 
Resources and information

KyCPA set up a resource page, kycpa.org/news/coronavirus. This page provides members with the latest information from many different sources, including the Governor's office, U.S. Small Business Administration, Department of Labor (DOL) and the Centers for Disease Control and Prevention (CDC). The page also includes a Frequently Asked Questions section for KyCPA members and helpful webinars related to the coronavirus; some of them are free to members. There was an expressed need for members regarding the extended local jurisdiction tax and fee deadlines. We created a page on our website for the local jurisdictions to report the new deadlines so members have one place to be able to find them at bit.ly/JurisdictionsExtending.
We are adding additional training as information keeps changing. KyCPA is moving forward with planning conferences and seminars and are adapting to our new environment. The Nonprofit Conference and Spring Business Conference were held virtually in April. For the CPE lineup check in often online at kycpa.org/cpe/catalog.
Events
Even in these unusual times, life goes on. We've had to find ways to stay connected but physically separated. Society staff developed alternatives for the Spring Awards Banquet to celebrate the accomplishments of candidates, new CPAs, award winners and scholarship recipients. A congratulatory video is available at kycpa.org/edfoundation/scholarship distributed to colleges and universities with scholarship recipients. A video message to candidates, new CPAs and award winners will be available the second week in May at kycpa.org/mykycpa/SAB. 
The alternative for the KyCPA Annual Members Meeting and Luncheon is a video created by Elizabeth Woodward, KyCPA 2019-2020 Board President. Woodward shares her experience as President at bit.ly/WoodwardPresident. Watch your email or visit kycpa.org for information regarding KyCPA 2020-2021 Board nominations and a message from your incoming President, Esther Thompson-Long.
The KyCPA Educational Foundation Golf Scramble, originally scheduled for June 15, has been canceled. We are contacting alternative golf courses for availability for later this year. We will post updates at kycpa.org/edfoundation/GolfScramble. 
Stronger together
When the Society staff left the office on March 17, we were optimistic that we would return on April 5. Now we're not sure when we will be able to return. The coronavirus has caused so much uncertainty, angst and anxiety. We are in this together and are stronger together. The Society staff will continue working on your behalf, doing everything we can to empower you to serve your clients/customers and employers at the highest level.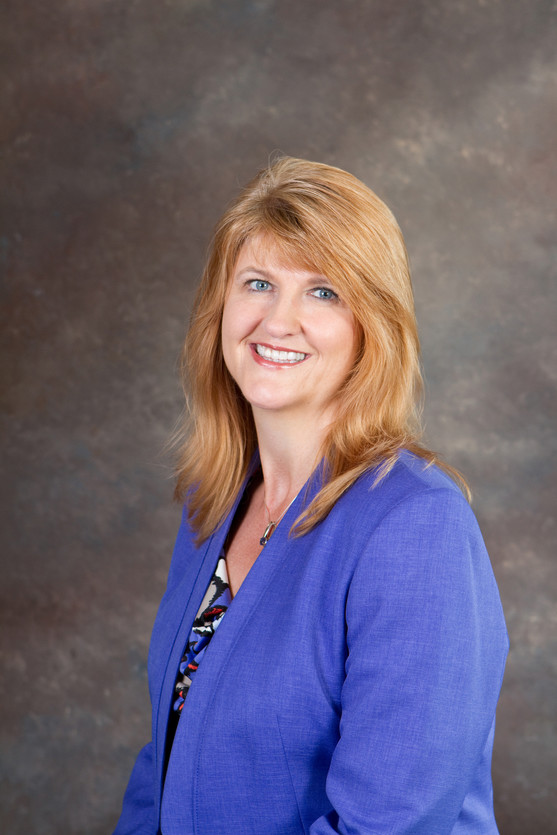 About the author: Darlene Zibart, CPA is the CEO of the Kentucky Society of CPAs. She can be reached at dzibart@kycpa.org.
Kentucky CPAs are stronger together
During this unprecedented time, KyCPA members and staff keep finding solutions that help guide Kentucky government officials, citizens and businesses to get through this Pandemic. Your KyCPA membership makes the successes during this Pandemic possible. The legislative efforts, COVID-19 resources and information and continuing the growth of the profession are all possible due to your KyCPA membership.
KyCPA appreciates your membership, watch your email on July 1 for your KyCPA membership renewal. Click here to view KyCPA member benefits. If your company/firm is enrolled in the firm/company billing, make sure all of your employees who are eligible for membership are listed on your renewal. To retain 100% Champion status, make sure to submit a new verification form at kycpa.org/mykycpa/100champions. To pay your membership dues individually, you may do so online anytime after July 1.
Click here to pay your membership dues individually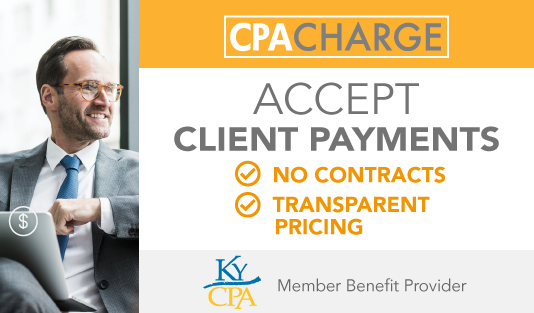 CPACharge
MEMBER BENEFITS PARTNER
CPACharge is trusted by more than 105,000 professionals and offered as a member benefit by KyCPA as the best payments solution for CPAs—providing a simple, secure way for you to accept client credit, debit, and eCheck payments online. Special offer: sign up for CPACharge through KyCPA and get your monthly fee waived for 3 months. Click here to get in touch.
---