Cover
2023 KyCPA Leadership Luncheon and Annual Members Meeting
Issue 3
July 27, 2023
On June 16, the KyCPA Leadership Luncheon and Annual Members meeting took place at the Olmsted in Louisville. 
The luncheon included keynote speaker Representative Jason Petrie. Representative Petrie is a member of the Kentucky House of Representatives and represents District 16. He assumed office in 2017 and is currently in his fourth term.   
Jim Stevison, 2022-2023 KyCPA Board Chair, thanked the other members of the KyCPA Board for their service and leadership and recognized the following Board members whose terms ended on June 30, 2023:
Jake Brock
Adam Hancock
Jon Harville
Eric Scott (2021-2022 KyCPA Board Chair)
Stevison recognized the four recipients of the 2022-2023 Outstanding Committee Chair Award:
Cheri Baize, Women's Initiative Task Force Chair
Emily Donavan, Accounting Career Opportunities Committee Chair
G. Alan Long, KyCPA-PAC Board of Trustees Chair
Vicki Romanko, Members in Industry Committee Chair
Stevison wrapped up his year as KyCPA Board Chair by thanking the many volunteers whose efforts are shaping the future of the Society and the CPA profession, then introduced Kayla Gremillion, the 2023-2024 KyCPA Board chair. (Click here to read the Member spotlight featuring Gremillion.)
Gremillion thanked Stevison for his service and presented him with the Chair plaque and pin.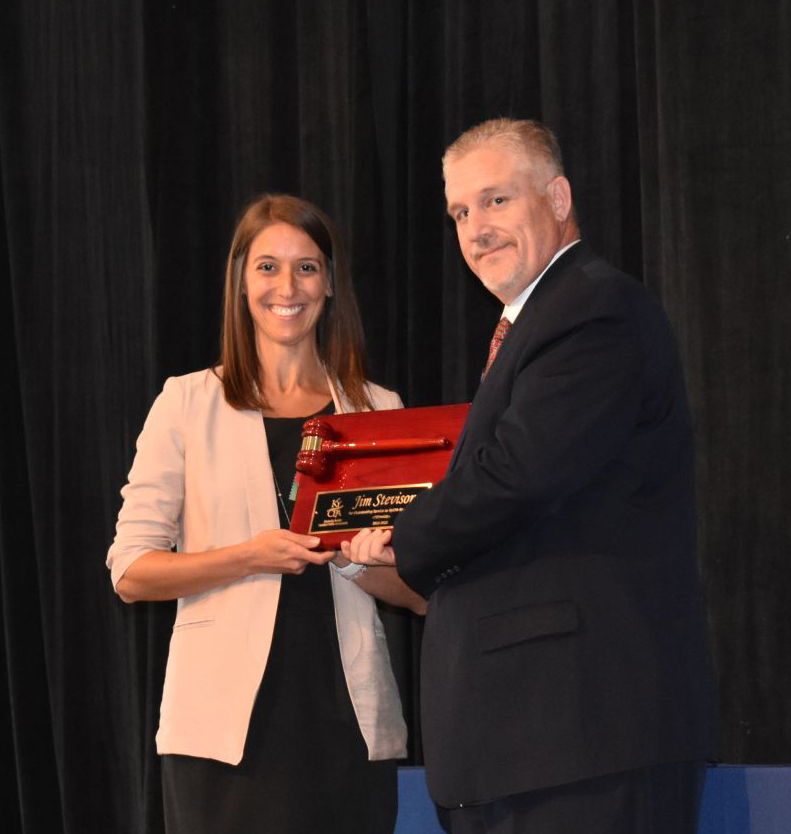 Then she introduced the 2023-2024 KyCPA Board members and spoke regarding the goals she wants to accomplish this year as Board chair.
Before departing from the luncheon, those attending had the opportunity to be part of a prize drawing for donating a minimum of $100 to the KyCPA Educational Foundation during the luncheon. A total of $3,900 was raised at the luncheon! The prizes included:
Caesar's Southern Indiana Package (Includes a one-night stay at Caesar's, $150 gift card to Gordan Ramsay Steak and two tickets to a show of your choice.)
Indoor premium box at Churchill Downs in Turk Club for 10 (Excluding Derby week and Breeder's Cup) Donated by Deloitte
Free attendance to one KyCPA 1-day conference
Thank you to everyone able to attend; it was a wonderful event. Click here to view upcoming KyCPA events.