In 1921, 25 years after the first certified public accountant (CPA) certificate was granted in the U.S., John W. Cromwell, Jr. became the first Black CPA. He opened a door through which thousands of other Black accountants would eventually pass.
In honor of the 100th anniversary, this award has been established to continue to build upon progress made by recognizing young Black CPAs for influencing the profession, breaking barriers, and making an impact on the community.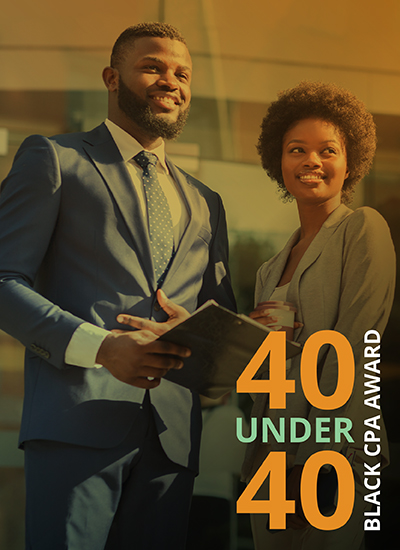 Eligibility Requirements and Expectations*
Identify as Black or African American
Be below the age of 40 as of Dec. 31, 2021
Be a CPA with an active license
Be currently employed in an accounting or finance role and plan to continue in roles that promote and build the future of the CPA community
Demonstrate a recognizable level of career success and outstanding performance
Demonstrate the ability to exceed expectations in the workplace through examples of ambition, determination, and innovation
Demonstrate the ability to make a positive impact in the community and/or CPA profession through a strong record of volunteer service  
Demonstrate an interest in leading, inspiring, and helping the next generation of Black CPAs 
*The application consists of personal information, three short essays, resume and headshot upload, and one letter of recommendation. There is no limit to the number of applicants from one employer. Applications must be submitted by August 15, 2021. 
To apply, click here. Applicants will need to register for a free OpenWater account, or log in with an existing ThisWayToCPA.com account. A panel of judges will select the 40 honorees and all applicants will be notified with the decision by mid-September. 
Save the date for the special culminating celebratory event, the Black CPA Centennial Gala in Chicago on November 12.